When we think of Vicki Boutin, we think of magical products inspired by unicorns and rainbows, golden nuggets of crafty advice, and super simple techniques that anyone can master.
Her bright, vibrant nature and simple hands-on tutorials of popular techniques makes her a go-to for scrapbookers, mixed media artists, card makers, and memory keepers.
Read on as we take a look at some of the products that Vicki uses to create her signature brand of magic, as well as some simple tricks and techniques for your own creations.
Vicki Boutin Foundations Paper
The paper you use in your crafting is incredibly important. Not only does Vicki Boutin design absolutely gorgeous collections that include a variety of unique patterned papers, but she also has specialty papers for mixed media.
Using the right paper can do more than make your layout look amazing; it ensures success with a variety of techniques using water, paints, watercolor, glazes, pastes, gessos, and more.
Every good mixed media project, scrapbook layout background, or handmade card with some of Vicki's coolest mediums starts with the right paper. And that paper is her 140lb Mixed Media Foundations Paper.
Foundations Paper is deliciously thick paper that was designed to hold up to a certain amount of moisture without buckling, warping, or tearing. That means you can get crafty and creative with water-based products like paints, watercolors, and so much more.
Not only does Vicki offer a beautiful, clean, blank pad of 12 x 12 sheets, but she has also has multiple sizes of pre-made colorful backgrounds as well.
Her ready-to-use mixed media paper pads are filled with a rainbow of designs, so some of the work has already been done for you. Some of them even have fabulous foil accents. Use them exactly as they are or as a jumping-off point to add more color, texture, and dimension.
Mixed Media Art Crayons
Once you pick up Vicki's Art Crayons, you'll never pick up your kid's waxy crayons ever again. These magical little tools are water-soluble mediums that are similar to oil pastels. One of the best things about the soft, creamy medium is that it suits beginners and advanced creators alike.
They're easy to work with on their own or with the addition of water but also create a sophisticated, multi-dimensional result on your project.
When getting the hang of Art Crayons, it's important to take Vicki's "golden nuggets" of advice so that you get the best results every time.
Firstly, when using your crayons with water, it's important to play first. Playing around will give you a good idea of the right pigment to water ratio.
It's also vital that you find the appropriate surface to transfer your Art Crayon and water combination to your project.
If you scribble on your mixed media paper and add water, your original scribbles will have imprinted into the fibers of the paper. Pick another surface like acrylic, acetate, or a craft mat to mix the crayon and water before picking it up and making art on your page.
Metallic Craft Glazes
If you've ever needed a little pot of magic filled with endless possibilities, that's exactly what Vicki Boutin's glazes are. Each little jar of glaze is thick and creamy like a mousse and shimmering with "unicorn tears" (although no unicorns were harmed in the making of Vicki's glazes, we promise!).
If you're looking for some magic, these glazes are what you've been searching for. They can be used with a variety of techniques and looks.
Just think about the colorful, glimmering swishes across your scrapbook background or used with your favorite stencil for a true WOW factor on your page. You can even mix them with water to thin the glaze mixture out for more organic movement across your project.
Colorful and Dimensional Texture Paste
An important part of mixed media is texture and dimension. That's why Vicki recently unveiled brightly pigmented Texture Paste. Get easy eye-popping three-dimensional elements on your project with these vibrant little jars of texture paste.
Since Vicki is a big proponent of art being for everyone, these bold, bright bottles of texture paste are an easy way to begin mixed media. With fun coordinating colors that go with Vicki's signature collections and products, you can use these with lots of existing supplies for a look you'll love.
They also dry with a flat matte finish (not shiny) which gives you even more creative possibilities once they're dry.
Acrylic Color Pop Paints
Who would have thought that acrylic paints could be used in scrapbooking, card making, and other non-canvas papercrafts? Vicki Boutin, that's who!
While her little cola-shaped bottles of Color Pop Paint are all named for yummy treats, these are not edible - just deliciously juicy looking.
Cotton Candy Pink, Crushed Pineapple Yellow, Cherry Tart Red, don't those paint colors just make you want to create something delectable? Not only are these a bright pop of color for your next project, but they can be used in tons of different ways - with water, without water, through stencils, with stamps - but more on that later (wink).
Reusable and Versatile Stencil Brushes*
What exactly are stencil brushes, and how are they used? Well, these brushes from Vicki Boutin come in a handy 2-pack with a small and large brush for small and large projects. They have thick, rough bristles that easily pick up pigment and mediums to distribute them evenly across your page.
These brushes are washable and reusable for endless crafty fun. And as long as you clean up between uses, they can be used with acrylic paint, art crayons, glazes, texture paste, gesso, and more. You will love seeing the different applications and results with each new medium you try!
---
It's not just about the products - it's about the techniques and the things you create!
Vicki Boutin encourages you to play around with any and all supplies because it's all about fun.
"Learning and discovery are achieved through practice and play." - Vicki Boutin.
So what are some fun techniques that Vicki Boutin tested and crafter approved? Here are a few to get the fun started.
*Please note this product has been discontinued
---
Practice and Play in Your Junque Journal
Not everyone sits down to create with a finalized vision of what they're going to make. Vicki Boutin is a big believer in giving yourself permission to play around, get messy, make mistakes, and learn as you go. That's where her Junque Journal comes into play.
Why is it called a Junque Journal? It's filled to the brim with creative junk, ideas, recipes for success (and some failures), blank pages waiting for a technique, color swatches, notes, and so much more.
It's the playbook for the big game - with the big game, of course, being your next amazing project. So make sure you show up to practice before kick-off and figure out your colors, textures, and looks in a practice space first!
Add Water For Drip and Drop Effects
Almost all of Vicki's favorite mediums are water-soluble. That means that mixing them with a little (or a lot!) of water will make them liquid and free-flowing for creating something colorfully amazing. A popular trick in mixed media and scrapbooking is making a variety of drips and drops on the page.
This look can be easily achieved with Art Crayons, Color Pop Paints, and Glazes. Each one gives you a different look in color, opacity, and shimmer.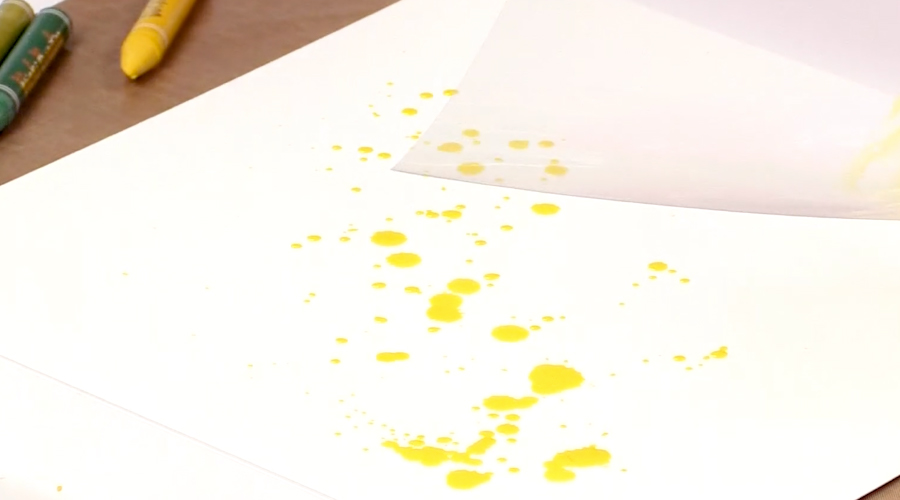 When you choose a "delivery system" like a craft mat or piece of acetate, the drops spill right off the end to create a free-flowing pattern.
If you use a saturated paintbrush with your colorful medium and water, you can flick the tiny droplets in a more controlled fashion for a subtle look as you 'tap tap' the drops exactly where you want them.
Faux Watercolor Painting and Coloring
Since so many of Vicki's signature products are water-soluble, that also means that you can create your own faux watercolors from them. The key to this is putting a little of your medium (Art Crayon, Color Pop Paint, etc.) on a craft mat or piece of acetate and slowly adding water to create the mixture you're looking for.
Adding a tiny bit of water will make your pigment darker and more pronounced; adding more water will thin out the mixture.
Looking for some faux watercolor fun? Try stamping your favorite images on a piece of mixed media paper in black and then painting in the images. You can even use coordinating colors to blend and create flowing hues in flower petals and lots of other fun images.
Add Colorful Layers With Paint Dragging
This technique is so simple and yet so stunning, you won't believe you've never tried it before. It's called paint dragging, and it really couldn't be any easier.
It starts with just a few small dabs of acrylic paint in strategic locations at the top of your page. Choose one or two colors that go well together (ones that won't make a muddy brown if they overlap). Then, pull out an oldy but goody - a plastic ruler.
Just like evening out the frosting on a perfectly-baked layer cake, take the ruler and slowly drag it down the page, starting at the very top. It will begin spreading the drops of colorful paint in a magical thin layer straight down your page.
Feel free to pick up the ruler (or straight edge tool) and go back to the top or the middle to make more colorful stroke marks.
This is a great technique for paint lovers who don't dig long drying times. Since the paint is spread in an incredibly thin layer, drying time is super quick! This is a super unique technique for an eye-catching background for your fave photos on a layout or a card front.
Find New Ways to Stamp
If you're looking to upgrade your stamping skills, trade your ink for Art Crayons and water. The look you get from clear stamps, creamy crayons, and a little spritz of water will create something truly original.
All it takes is a little controlled scribble on the nooks and grooves of your stamp. You can even mix coordinating colors to get ombre effects or beautiful blends. Once you're happy with the color distribution, grab a spray bottle or water brush to activate the pigment. From there, stamp away!
Because of the medium and water mixture, the stamp impression is light and could be slightly imperfect - that's OK! Sometimes the point of mixed media is for it to look a little rugged or messy.
When you continue to add color and water and keep stamping, the end result is absolutely unforgettable. Just look at these blended butterflies!
No Water Needed With Dry Brush Painting
If there's a piece of patterned paper that you absolutely love but can't handle the weight of certain mixed media products, there's a technique for you. It's called dry brush painting, and the distressed look is a fantastic way to build background interest on your page.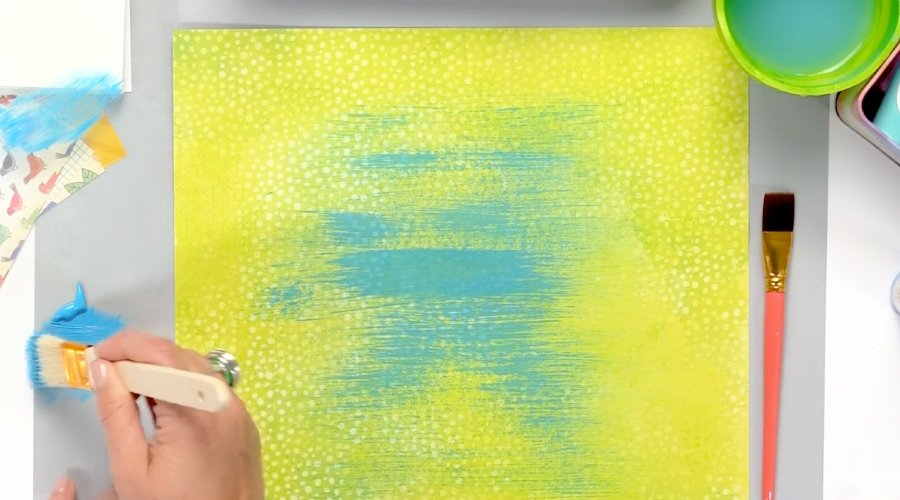 The technique is exactly what it sounds like - painting with a dry brush. When using a thick bristled brush, you can achieve an edgy, distressed look that allows you to build layers in the background of your design. It's a great way to add colors that go with your paper or bring out colors in the photos you're scrapping.
Sometimes a rough color application is just the thing your layout needs. You can also mix and match wet and dry applications when you allow layers to dry in between stages. Not only will the strokes apply color differently, but the hue changes with water dilution as well.
Move Your Medium With the Kissing Technique
While this application sounds cute and maybe a little funny, the end result is something truly unique and brilliant. Using a delivery system of acetate or plastic, you combine your medium with water to allow organic movement. From there, all you need to do is (carefully) flip it and "kiss" it to your project.
When your watered-down medium meets the page, the plastic holds on to it, allowing you to move and spread the design however you choose. This application can also be done with coordinating colors or layers of colors for something stunning.
The Many Uses Of Stencil Brushes
Here's the secret you've been waiting for. Vicki's stencil brushes are unbelievably versatile tools to have in your craft supplies, and here's why - they make tons of mediums come to life on the page. Especially when paired with their besties, stencils.
When paired with paint, the stencil brush can be wet or dry to apply the medium in a thick saturation of color or light application.
With Art Crayons, the stencil brush can be loaded up with the creamy color and lightly swirled onto the page. You can even mix coordinating colors on top of designs for beautiful shaded colors that make blends easier than ever.
And let's not forget about the glimmering, shimmering results that can be achieved when pairing stencil brushes with glazes. It's easy to control and distribute the thick medium with the bristles of your brush for a light whisper of shine or a thick, dimensional design.
Thank you to Vicki Boutin and American Crafts for phenomenal products and unbelievable techniques that all crafters can use to make beautiful, meaningful, handmade creations.
These tips, tricks, and top product ideas are from Vicki's free classes for American Crafts at Scrapbook.com. Learn more in her classes all about acrylic painting, mixed media techniques, and texture paste!
---