Hello all! It's Flóra Mónika Farkas here and I am very excited to be a guest designer on the Scrapbook.com blog.
Today I will show you how easy it is to make a lovely wedding card using Scrapbook.com's exclusive Happy Couple stamp set and some gorgeous patterned paper. Let's get started!
Read to the end for a full list of products and supplies, plus an absolutely stunning personal wedding photo from Flóra and details about her very special day!
To start off, I picked the Neenah A2 pre-scored card for my base. I love that I don't need to measure and trim; I simply just fold on the score line and I'm ready to go.
I chose a few striking gold foiled patterned papers from Maggie Holmes' Sunny Days 6 x 8 Paper Pad. The gold foil accents on these papers add a touch of elegance and this is what we need for a romantic, beautiful wedding card, right?
I trimmed strips from two separate pieces of white and pink paper and then layered them on the card base with an adhesive roller. I also fussy cut a few flowers from some of the Sunny Days paper.
Tip: It may take some time and patience, but fussy cutting some of the gorgeous patterns on a sheet of paper is totally worth the effort!
Next, I created my main sentiment using The Happy Couple stamp set and my Stamp Platform. I wasn't entirely sure what shade I wanted for my sentiment, so I decided to use a few varieties of pink ink to see which one I liked the best.
I tried out Pink Lemonade and Candy Shop Pink from Scrapbook.com's Ink Collection on a Neenah Solar White Flat Card Front.
As you can see, both colors came out stunningly beautiful. The stamp's font mimics watercolor brush lettering and creates a very unique effect when stamped. I just love it! This ink is really something special - don't hesitate to try it out if you haven't already!
After stamping, I trimmed the phrase to create a simple rectangle for the front of the card.
Using the adhesive runner, and some foam dots, I adhered the fussy cut flowers, and some absolutely gorgeous gold foiled accents from the Sunny Days Collection. The gold elements really support the elegant look we're going for with this card. I alternated between using the adhesive and the foam to create some wonderful depth and dimension throughout the card.
For small pieces like the hearts at the bottom, I used the Adhesive Dots Roller because it is way more practical than anything else. In the end, I completed the card with a pink chipboard flower sticker, also from Sunny Days.
Here is the final look of the completed card. I love the pink bouquet of flowers in the background and the shine of the gold foil accenting all the embellishments. The Happy Couple stamp set includes several great phrases that can make your engagement, bridal shower, and wedding cards extra special.
Here is a close-up so you can really see how beautiful all the elements came together. The foam created some unique layers, and all the little touches of gold really accented the various shades of pink. Overall, it's whimsical, romantic, sweet, and the perfect way to show some love.
I just got married in December. We had a wonderful Christmas wedding just two days before the Holy Night. We also received a few handmade wedding cards what are obviously our favorites. It's so touching to know someone took so much time and effort to create something personal for us. I am sharing a happy little moment with you from our big day - hope you don't mind.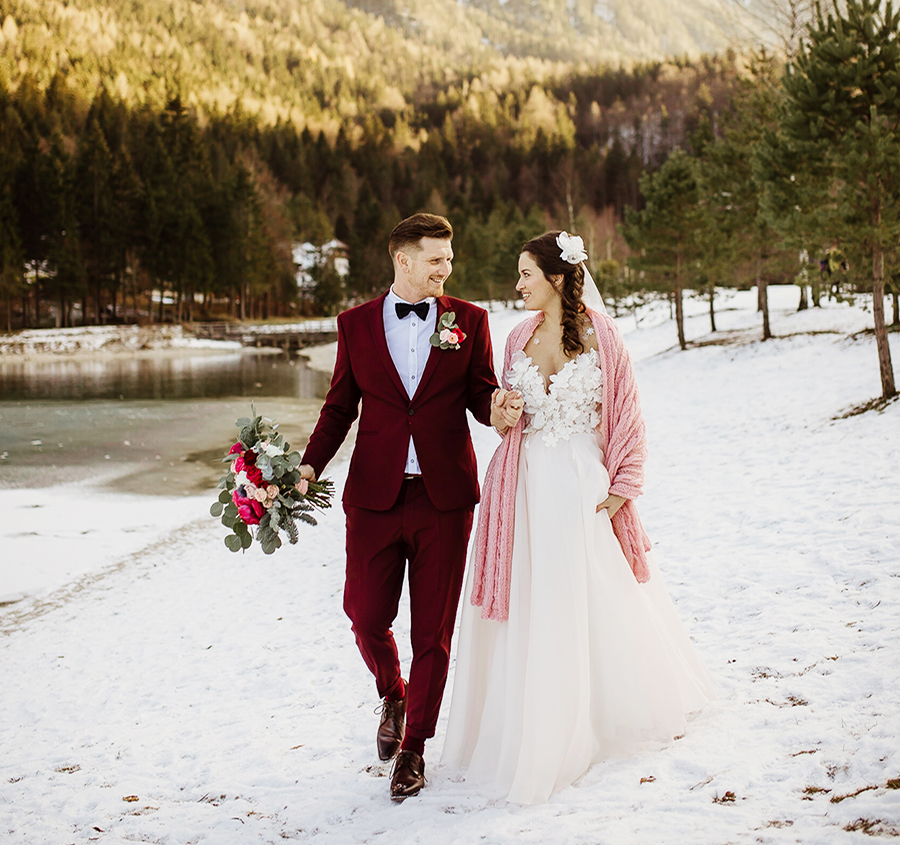 I'd like to thank Scrapbook.com for letting me share this wonderful, easy technique with you all. I really hope my card inspires you to surprise a happy couple with a handmade wedding card on their special day!
Looking for more inspiration for wedding season? Then you won't want to miss all these fun ideas for wedding cards. Also, don't forget to check out this amazing guest blog post on how to make funny birthday cards for everyone!
---