October 1st is World Card Making Day 2016 - one of our favorite days of the year here at Scrapbook.com. It's all about playful papers, exciting ephemera, and passing cards from our hands to the hands of our loved ones. We love the cards that you share with us in the Scrapbook.com gallery, so we wanted to do the same and share some of our favorites with you!
1. Marcia Dehn-Nix's "Thank You" Card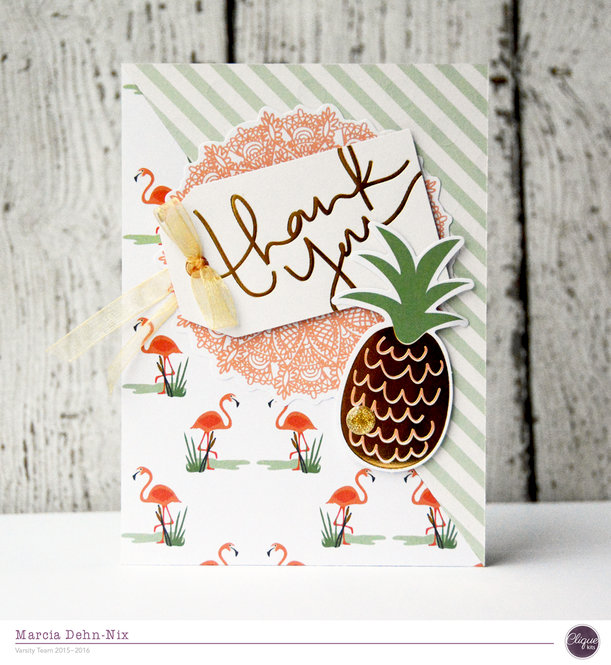 Marcia Dehn-Nix created this dazzling Thank You Card with the On Trend 2 Collection by My Mind's Eye. The gold foil accents pop against her clever use of contrasting greens and pinks. With flamingos and pineapples, this is the perfect handmade thank you card for summer!
2. SannaL's "See The World" Card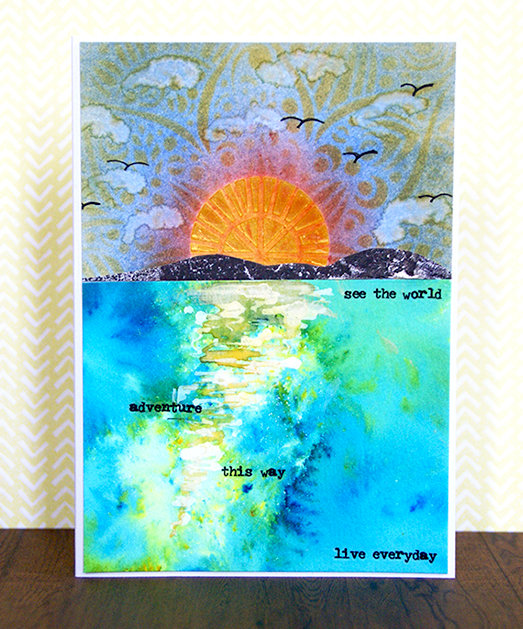 This card, made by SannaL, combines craft and fine art using Tim Holtz Distress Inks. We love the use of the intricate template in the background to create the sun's extraordinary rays, and the water droplet clouds? Ingenious. If you want to make a handmade card for your jet-setting friend, this multi-media card would be the perfect farewell gift!
3. Spellbinder's "Save the Date" Card

This is a save the date card that we want to save forever! This memorable card is the perfect announcement for an unforgettable occasion. It did the trick and sure stuck out in our minds. If you're looking to make a handmade save the date, this monochromatic card idea is one to run with- no cold feet here! This elegant card by Spellbinders is trendy, timeless, and totally touching.
4. Heather Shank's "Enjoy This Day" Card
WOWZA! This elaborate teapot and teacup card takes the cake! Made using Carpe Diem papers, stickers, and embellishments, Heather Shank shows how versatile our crafting supplies can be with her creativi-tea! This is an inspiring, handmade, "thinking of you" card idea or even a "just because" card. With a work of art like this, how could we not enjoy this day!?
5. Debby Hughes' "Simple Teacher Card"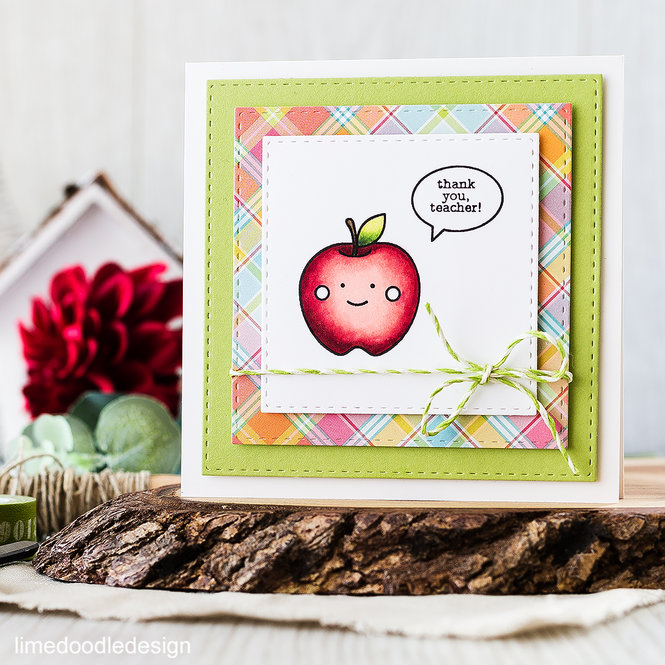 Sweet and simple can be just as effective as elaborate and ornate, and Debby Hughes illustrates that here with her adorable thank you card! Any teacher would be happy to receive this precious thought. And the smiley face in the apple? Beyond cute. The next time you're looking for an idea for a handmade card for your teacher, keep this card in mind! Way to go, Debbie!
6. Andrea M.'s "Watt's Up" Card
This clever card makes us smile- and what's better than a card that makes you smile!? Andrea M used a variety of die-sets for this punny card, including My Favorite Things' STAX dies and WE R Memory Keepers' Nesting Circles. This is such a fun friendship card idea- it's so cute! Dare I say: electroCUTE?
7. ARTISANT's "I Love You Baby!" Card
We love this opulent Valentine's Day card created by ARTISANT. The sweet, vintage-inspired embellishments pair so nicely with the traditional lace, ribbons, and floral accents. Any suitor would be thrilled to receive this handmade gift. If you're already thinking about your Valentine's Day cards, look no further- this is the perfect idea for a handmade Valentine's Day Card!
8. Kimberly Crawford's "You Are So Rawr-some" Card
Using Echo Park's charming Dino Friends Collection, Kimberly Crawford created this darling card. With whimsical embellishments and a variety of textures, this card is fun to look at and touch! The next time you want to make a handmade congratulations card, or when you're looking for a cute thank you card idea, no need to keep digging. You bet your boot straps that this card won't be going extinct any time soon!
9. Tracey Sabella's Easter Card
This stunning card was handmade by Tracey Sabella with Bo Bunny papers, Spellbinders' Shapeabilities Dies, and Tim Holtz' March Tag Technique. We love the resplendent color palette and the beautiful beads she added. Receiving a handmade Easter card like this would brighten anybody's day, so keep this card in mind if you are looking for Christian Easter card inspiration. What an amazing way to honor the Creator- by creating!
10. Ddobson's "~happy~" Card
Focus on the happy- and that's what we do here at Scrapbook.com. Last, but certainly not least, Ddobson's "happy" card left an impression on us. Using American Crafts, Therm O Web, and Simple Stories, she designed this chic, but funky card that reminds us to always focus on the happy. Cards like this make us so happy. We're so inspired by her handmade happy card.



Focus on the Happy: what a great leaving note! Don't forget to post your card creations in our gallery. Are you making and sending cards for World Card Making Day? Comment below and tell us what you're making. ALSO: We want to see! Before you send your cards out, make sure to snap a couple photos and share them with us! Use the hashtags #scrapbookcom and #wcmd2016 to see others' creations. For more "happy," check us out on Facebook, Instagram, and Pinterest, where we regularly post fun ideas, deals, happy things, and more!
Thanks for stopping by!
---