Another year around the sun and we've come to a day that we mark with gold stars on our Scrapbook.com calendar: World Cardmaking Day! October 7th is World Cardmaking Day 2017 and we're ready to celebrate! There are a lot of reasons why we love World Cardmaking Day - tons of papercrafting sales, seeing the inspiring cards that others make, and an excuse to make more cards, of course!
We wanted to take a few moments to reflect on all of the amazing cards you posted in our Scrapbook.com Gallery during this trip around the sun. We've chosen 17 of our favorites (and we have so many favorites) to share with you and hopefully inspire you in your next cardmaking endeavor!
1. Cute Snail Mail Card
Favorite thing about cards #437: surprising someone via "snail mail!" This card is the epitome of that! STAMPCATWG created this adorable card using Lawn Fawn stamps and dies. From the textured cardstock she used, to the cheery colors that pop, this card is thoughtfully designed and could be used for any occasion! Also, we love the bright yellow and blue snails being reflected in the yellow and blue frame. The whole thing is tied together so well - literally, with a touch of twine!
2. Mixed Media Card with Kuretake Markers
During 2016, the trend of mixed media watercolor effects only continued to grow. We love this example we found in our gallery! MarnieB created this painterly card with Kuretake Markers. Not only is this card beautifully designed, with its deep, patriotic colors and watercolor effects, the sentiment is just as lovely: you brighten my life. This is a stunning example of a card that not only looks magnificent, but makes you feel magnificent too.
3. Card with Soft Blended Background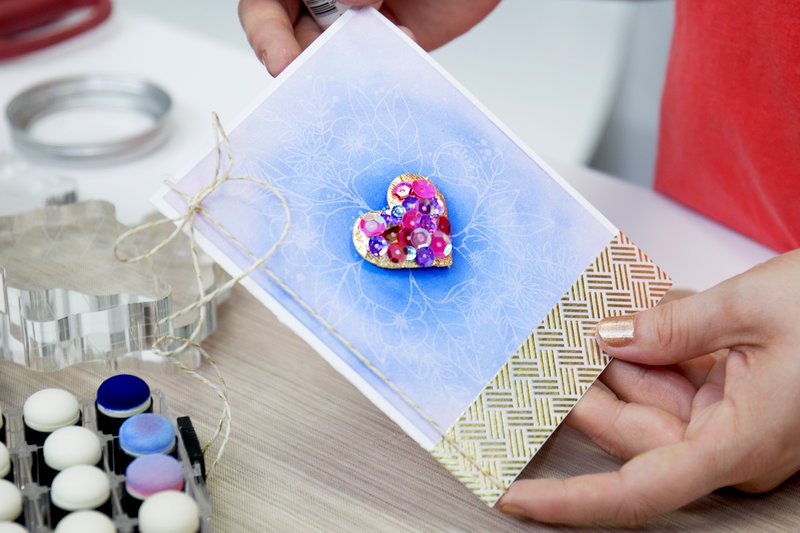 Blended backgrounds are all the rage and we adore this sweetly blended card that Andy made! Using the highly sought after Distress Inks and Craft Sponges, Andy blended a beautiful background, then stamped a subtle floral image with white pigment ink. The result was a card that has that instant wow-effect and can be used for any occasion!
4. Sea-Themed Shaker Card
With the invention and release of the bestselling Fuse tool, shaker cards of all shapes and sizes are shimmying their way into the spotlight. We love all of the shaker elements we're seeing! We found this card in our gallery. Made using Echo Park Paper supplies, AnyaL created a colorful card perfect for a child's birthday, a sea-themed party invitation, a summer time hello, or just-because!
5. Cute Get Well Soon Card
Sometimes our friends and family are feeling down. As cardmakers, we can play a special role in these troubling times by offering a little something to brighten days and induce smiles... or warm fuzzies, as Mendi puts it! Mendi Yoshikawa shared this heartwarming card that she made with Sunny Studios Stamps and dies. Whether you're creating a card for a friend who is ill, recovering, or recently suffered the loss of a loved one, a cute card like the one above can go a long way.
6. Homemade Anniversary Card with Stars
Anniversary cards don't always have to have roses and big red hearts - sometimes they can have cute woodland critters and hearts made of stars! We love this card created by MochaFrapScrapper with Lawn Fawn supplies. This is a card that, if received, we'd be happy to gaze at over and over, just like we're star gazing with our sweetie pie!
7. 3-Dimensional Card with Simple Stories
3-Dimensional cards have been popping up in craft spaces across the country this year more consistently than ever! Marcia Dehn-Nix made this impressive card with Simple Stories supplies. With a large variety of brands making intricate, 3-d dies these days (such as Sizzix, Lawn Fawn, and Spellbinders), creating treat boxes, pillow boxes, and creative scenes is easier and more affordable than ever! We can't wait to see the 3-d cards to come in 2017.
8. Chic Paris-themed Card
Say bonjour to this chic card that takes our hearts and minds to Paris! STAMPCATWG shared this haute-couture card that she made using brightly colored American Crafts cardstock and Hero Arts stamps and dies that have us saying ooh la la! Perfect for anniversaries, Valentine's Day, a bon voyage, or just to say hello - this sweet card fits the bill for any occasion.
9. Patriotic Thank You Card
It's all about the land of the free and the home of the brave with this perfectly-patriotic card and envelope, created with Pink Paislee supplies. Whether you're creating thank you cards for our brave soldiers or want to send a follow-up to your neighbor who hosted a 4th of July BBQ worthy of fireworks, a card made with the Sweet Freedom collection would be sure to put a smile on his or her face!
10. Card of Encouragement with Unicorns
Be it unicorns, fairies, or even the Loch Ness Monster, no matter what you believe in, it's important to remember to believe in yourself! AZAmy reminded us of this with this magical card she shared in the gallery! Created using Concord & 9th stamps and dies and Distress Oxides, this card is not only encouraging and inspiring - it's positively breathtaking! What a great card for anybody going through something that pushes the limits.
11. Unique Invitation for the Coffee Lover
With all of the ways to gift give nowadays - from online shopping to gift cards, we cardmakers know just how special a touch of "handmade" can be to our recipients! We love everything about this card, created by Sizzix. It's colorful, cute, and totally considerate of the friend who is caffeine-obsessed! For your bff's next birthday, surprise her with an invitation to take her out to coffee with this cute idea.
12. Cute Card with Doodlebug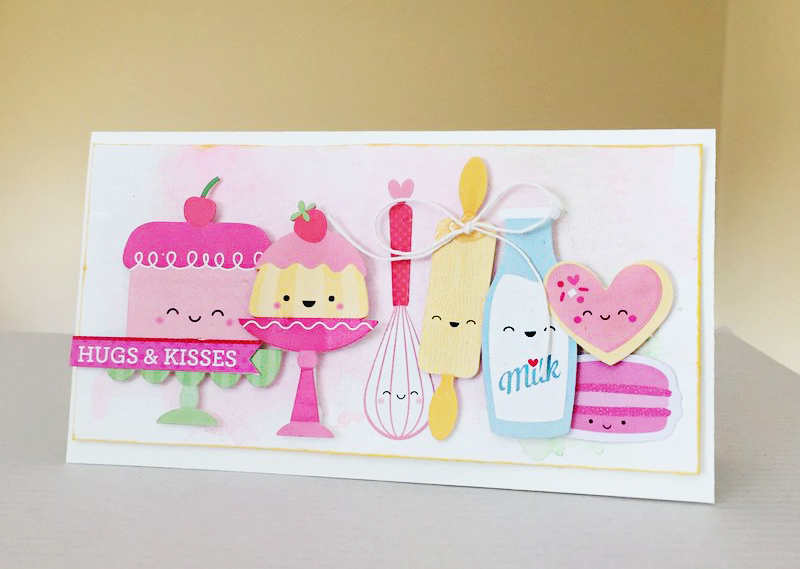 Sugar, spice, and everything nice is how we'd describe this decadent card! Created with one of Doodlebug's 2017 favorites, Cream and Sugar, this card, by KristineDavidson, has treats that would make anybody smile! Whether your card recipient has a massive sweet tooth, enjoys the craft of baking, or just loves cutesy motifs, this card will take the cake!
13. Colorfully Stamped Card with Flowers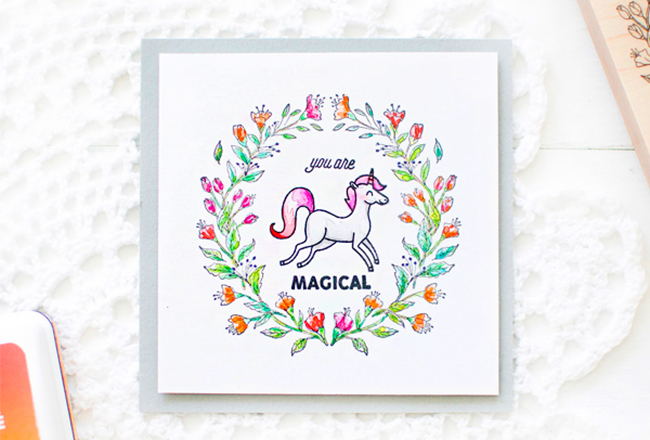 This year has been a year full of friendships and gentle reminders that we can overcome anything! Here is another card found in our gallery that we fell in love with, and it's another card that inspires! It's Hero Arts' "You are Magical" card by May Sukyong. Created with Hero Arts stamps and dies, this card is hand colored. Against the stark white background, the vibrant hues pop, creating a card that looks and feels like you've entered a fun-filled fantasy land!
14. Creative Card for First Apartment
Though this card wasn't necessarily made with the intention of giving it to someone for his or her first apartment, we think it would be absolutely perfect for that exciting occasion! Jeannejachna created this multi-patterned and layered card using Simple Stories supplies. With a sassy little dog, retro-vintage colors, and laughter provoking phrases like "every day I'm launderin'," this card is loads of fun in itself!
15. Traditional Handmade Christmas Card with Bow
There's something very special about making and receiving Christmas cards - and this one stood out as unforgettable to us. Sandy Trefger created this glamorously ornate Christmas card using Graphic 45 supplies. With greens, velvet reds, and pops of shiny gold, this card is just as pretty as a tree ornament, but that much more sentimental and meaningful.
16. Antique Inspired Thank You Card with Kaisercraft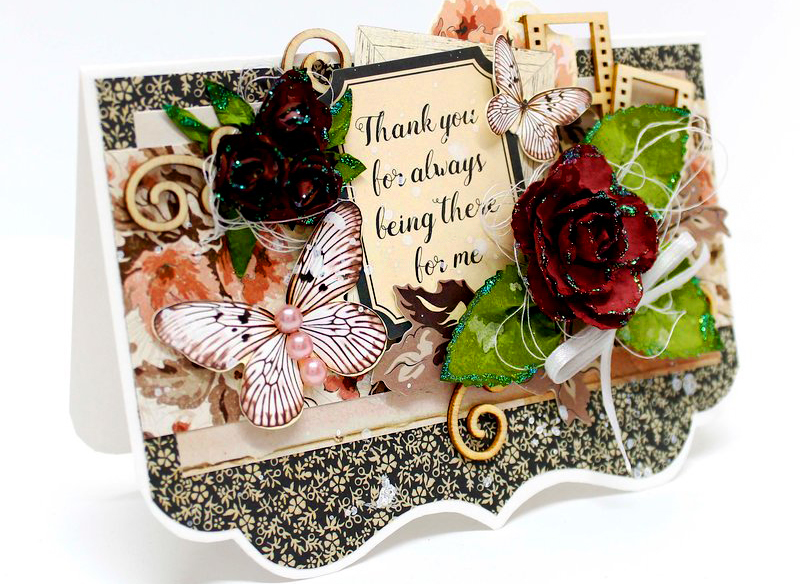 With floral patterns, pearls, and wood flourishes, Anita Bownds created this layered thank you card by using items from Kaisercraft. We love all of the small details in this thoughtful card - from the tiny spattering of seed beads to the glitter elements on the flower embellishments. This card looks like ample time was taken in creating it - a fitting consideration where thank you cards are concerned.
17. Mixed Media Card with Butterflies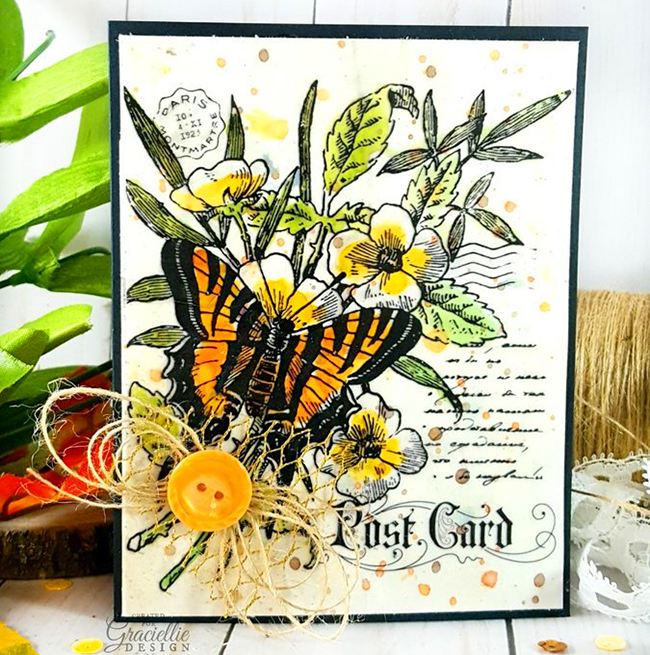 This year has been all about butterflies when it comes to design - and we had to add this one to the list. Created using Ranger Ink supplies, Wavingmywand made this elegant card with a French-country twist. In amber hues and with hand watercoloring, this mixed media card is perfect for every day card giving.
---
Thanks for stopping by. Don't forget to share your cards with us in the gallery and to check out the Scrapbook.com store to stock up on all of the creative treasures you need to create your own works of papercrafting art!
Happy World Cardmaking Day, 2017!
---