Jul '20
Dawna.s Place
We believe that handmade cards can lift the human heart and spread happiness! SB has launched a global initiative to get handmade cards to people who are in need of an emotional boost, a smile, or a helping hand.
Want to be a part of this wonderful program? Here's how you can participate:
Program and Challenge Guidelines:
1. Create a minimum of 10 size A2 cards from the following approved theme's:
Thinking of You, Inspirational/Motivational, Get Well Soon/Well Wishes, Thank You, Sympathy, Happy Hello, Christmas, Happy Birthday, Mother's Day, Father's Day and General cards with no specific sentiment.
2. Include an envelope with each card.
3. You may use "Handmade By" stamps and sign or initial the back of your cards (optional).
4. Please do not send cards with handwritten messages in them as they are for use by staff and families to write messages for patients.
4. Complete and follow the directions on the Submission Form for each shipment.
5. For this challenge, please post photos of your cards on this thread so I can keep a running gallery on the front page.
6. Please spread a little love around by commenting and voting on your neighbors cards.
7. Please feel free to hang out and join in the chat!
Prize:
At the end of the month there will be a random drawing chosen at Random.org and one lucky winner will receive a $10.00 SB Gift Certificate! Good luck everyone!
Holiday Mailing Deadlines:
Christmas: Monday, Nov. 30th
Participants:
1 Dawna (aka Dawna's Place) Hostess (15 Cards)
2 Vickie (Happy Go Lucky)
3 (aka ArtsyLC)
4 Linny (aka Linnny)
5 (aka Miriams Designs )
6
7
8
9
10
Prize Eligible Cards:
1-2
cards for kindness - hello by Happy Go Lucky Scrapbook.com
3-4
Cards for Kindness - sending smiles by Happy Go Lucky Scrapbook.com
5-8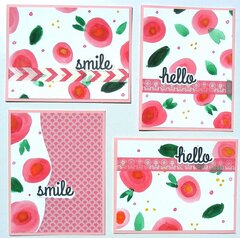 Cards for Kindness - July by Happy Go Lucky Scrapbook.com
9-59 https://www.scrapbook.com/gallery/image/card/6552073.html *See Individual photographs below.
60-69
CARDS FOR KINDNESS by Linnny Scrapbook.com *See Individual photographs below.
70-74
Cards for Kindness - July by Happy Go Lucky Scrapbook.com
75
76
77
78
79
80
Cumulative Total: 89
Legend: Met 10 Card Goal
Exceeded 10 Card Goal:
Rock Star 30+ Cards:
Above all else, have fun making your cards!