10d
Dawna.s Place
Intro:
If you love working with mixed media, you're in the right place! Not sure what mixed media is? Well simply put, its the use of art mediums to add texture, dimension and interest to your projects. It's one of those no rules categories so you can have lots of fun making a beautiful mess or create your finest masterpiece! So, grab your favorite mediums and lets have some fun! ~ Dawna
Prize:
At the end of the month, if there 6 or more players, there will be a random drawing chosen at Random.org and one lucky winner will receive a $10.00 SB Gift Certificate! Good luck everyone!
Example:
Here's a sample of a layout that I created using texture paste, clear gesso, blooms sprays, and some lovely microbeads: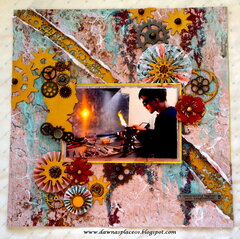 Possibility Begins with Imagination Layout by Dawna.s Place
Here's a canvas I did for Caroline last year:
Mixed Media Canvas for Caroline by Dawna.s Place
Guidelines:
1 This challenge is open to everyone who plans on creating a mixed media project to share.
2. Spread the love by leaving comments in other participants galleries.
3. Non-mixed media projects are not eligible for the prize drawing.
4. Feel free to hang out and join in the chat! We like getting to know you!
Participants:
1 Dawna (aka Dawna's Place) Hostess
2 Linda (aka Boricuapr)
3 Wendy (aka Wendycrowe)
4 Tena (aka Tean E.)
5 Peggy (aka Mgiov)
6 Tina (Tinacloer)
7 (aka Scraping4fun25)
8
9
10
Prize Eligible Projects:
1
Perfect by Tinacloer Scrapbook.com
2
Keep calm and paddle on by Tinacloer Scrapbook.com
3
My Treasures Journal - Volume 2 (Cover and Page 1) by Eapipkin Scrapbook.com
4
Summer by Scraping4fun25 Scrapbook.com
5
6
Above all else have fun creating your projects!