3.
Nati (Mrs. Tristan)
(5/5)
= DONE!
here are my five items:
5 items for Use it or Lose it!
By
Mrs. Tristan
1. Use the rest of that darn ribbon
2. Use the rest of the other darn ribbon that has just been hanging around my scrapspace like the above ribbon!
3. I don't know why i bought these letters since i'm PACKED with chipboard letters already so i better use them

4. Another Metal saying.. have a ton of those

5. I also bought these brads and i have no idea why i bought these so i better use the ENTIRE PACKAGE!
And here is my first lo!
Gifts
By
Mrs. Tristan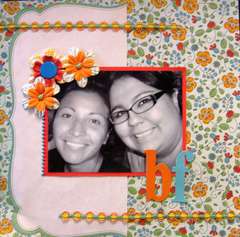 B.F.
By
Mrs. Tristan
and here is the last:
Primos
By
Mrs. Tristan