10.
Kristen (kristen622)
(5/5)
= DONE!
Here are my five . . .new stuff that I HAD to have.
Okay, here are my first few layouts . . .
I used the Basic Grey elements on this one:
Autumn Love-0BG Monthly Sketch
By
Kristen622
This uses the Little Yellow Bicycle calendar transparency and the BG letters: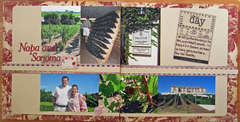 Napa & Sonoma
By
Kristen622
This one uses the Cosmo Cricket stickers:
Together
By
Kristen622
More to come!
And here's one more. This uses the Fancy Pants embellishments:
Maybe?
By
Kristen622