Hey friends!
We have a great class tonight with host Lolly Chessie. She will be using the new Prima masks and mists!
You can see the class live here:
http://www.ustream.tv/channel/primaflower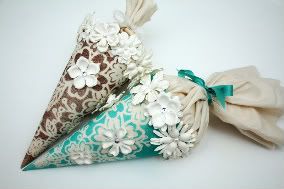 Celebrate the Little Things-Mussie Tussie Class
with Lolly Chessie on Live with Prima
Thursday , February 24th at 6:30pm pst/ 7:30pm mdt/ 8:30pm cst/ 9:30pm est
These pretty little favor cones are super easy to put together and completely customizable! All you have to do to change the color, is pick your favorite color of Glimmer Mist or other colored spray and POOF... you have a cone colored the way you want it! Lolly will show you how to put these little fellas together, change the size and decorate them with beautiful white flowers and pearls! You can use these cones as favors for your next special get together!
Hope to see you there!