Hmmm....does we want to start with layouts or with cards?
If layouts, I would get her a cheap album kit with a coupon. The ones that have an albulm, paper, and embellies??? Then I would get her a trimmer, a pair or good little scissors, and some adhesive. Maybe like the little tombows? Those are like a white out, should be easy to use.
If she wants to cards, I would get
- a pack of blank cards
- a paper stack
-trimmer
-cutterbee (or whatever) scissors
-adhesive
-maybe some sentiment stamps and an ink pad?
Tombow - Mono Adhesive Dots - Permanent - Dots Roller Refill
Cutter Bee Scissors
Fiskars - 12 Inch Personal Paper Trimmer with Cut-Line - Blade Style I
BasicGrey - Sublime Collection - 12 x 12 Vintage Paper Pack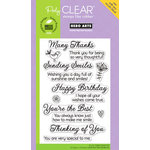 Hero Arts - Poly Clear - Clear Acrylic Stamps - Sending Smiles Message, BRAND NEW