OK, figured out my problem,,,,
I let them dry over night and had no problems at all,,,,,,,
YAY! I have a ton of digi stamps!
Janet,,,,,,,
a digi stamp is basically an uncolored image you can make any size you want (well, it's easy to make smaller,,,,making them bigger sometimes distorts them,,,,,,so the big big ones are great,,,,)I just resize them and print!)
Here,,,,,,these pumpkins are a digi stamp,,,,,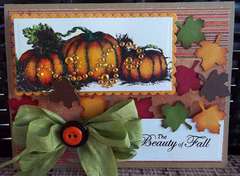 The Beuaty of Fall
By
CommaHolly
if you google FREE DIGI STAMPS or FREE DIGITAL STAMPS you can find a ton!!!!!
That is a beyootiful card! Glad you solved your problem. I also find that printer ink on certain papers can take longer to dry. So, sometimes, it's the paper and not the ink.