Hello all. Hope you are all enjoying your Friday.
Was going to go to a friend's hous to scrap but because of drama issues I invited another friend to scrap here instead. I hate drama! And it's all because of who invited me....sigh...seriously?
Rebecca - I can't wait to see what you come up with for those adorable albums!
Deb - Wish I could say that I only have 10 pages left of my sister's wedding album! You are doing a fab job on your pages!
Karen - Congrats on your etsy sale!
Dropping off more layouts. Also for those of you who commented on my layouts and had questions yesterday, I added info to each layout's description that hopefully answered your questions.
Fall is in the Air
By
Godschild94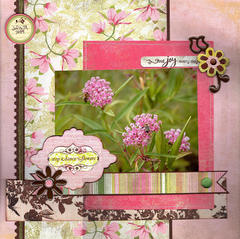 Stop & Dance in the Flowers
By
Godschild94
Holiday Tradition
By
Godschild94
Bailey
By
Godschild94
Celebrate Everyday Beauty
By
Godschild94