I have done double embossing (machine and heat) many times. For me, the trick is getting enough good quality ink - Versamark is a favorite - on the raised embossed parts. That way, you can lightly tap the paper enough to get the stray powder off the other parts. If you have enough good quality ink on the raised embossed section, this will work without the powder coming off of everything.
Inking the folders themselves will not work because it inks the part that is debossed, not the raised sections. It will look like this:
Letterpress Technique
By
Here Kitty
On this card, I wanted a distressed look, so I didn't really want ALL of the raised embossed areas to be heat embossed.
Double Embossing
By
Here Kitty
This is one of my favorite double embossed cards.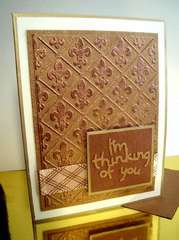 Fleur de Lis
By
Here Kitty