What a fun challenge! I'd love to play - I'd like to do a card.


I checked your gallery and WOW you do beautiful cards! I think this is a really pretty card, too, but would love to see how you would do it with your style!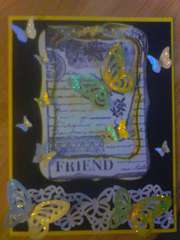 Happy Birthday Friend
By
Sue Greer
Thank you!
Love the card. I'm getting right at it!