Thank you for the replies already! So quick!
Yes I've been ALL over pinterest trying to figure out what I want!
In the old house I had a computer desk but that broke, and then 3, unmatching, not well sliding drawer dressers. So I would like to do away with those.
Also, in the old house the room could not be closed off from my cats or children. Now I can. So that changes how I can have things laid out. I can keep my ribbon out and hanging now if i want! Instead of smashed in a drawer!
I LOOOVE the ikea expedit systems. We just got an ikea here like 2 months ago. (winnipeg)
Here is a quick diagram of my room.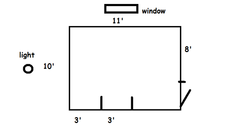 Help me plan my new room
By
Bcblondie