Here is my 7 Snowflakes but nothing to do with winter: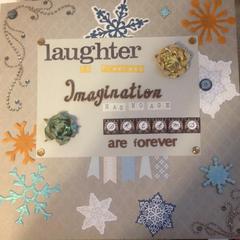 Laughter, Imagination, and Dreams
By
Mddanie
And here is my card with nothing but Cardstock and Rub Ons! I had a blast with this one! I love rub ons!!! Note that I was able to use some of the cardstock from last month too! (or was it 2 months ago???)
*Winter*
By
Mddanie
Here is a LO using 6 different patterned papers. BTW, I am loving the Heidi Swapp resist papers! Now I can have resist shapes any way I want. Obviously I went big here with the risky rectangle, but I will be experimenting soon!
2 Sweet Carolina Girls
By
Mddanie
My take on the sketch:
Me and You
By
Mddanie