I think she means the word books by BoBunny....
I have done the baby one for my dd,and am working on one for my son. They are fun! I've also made my own hand cut one(2007 album).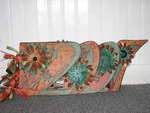 Moments and Memories 2007 album
By
Byondbzr
My daughter's "baby" word album
By
Byondbzr
Oh,ok, I love these. I haven't bought any yet, though. I was thinking of making my own, with chipboard and jump rings, has anyone made their own?