I'm in.......I may load quite a few layouts at one time but I by no means expect comments on all of them. I have been known to do 20-25 layouts in one weekend if I can convince everybody to leave me the heck alone!! I will just post that I have added layouts and a link to my gallery. Members can choose to ignore me completely and I won't be offended at all
I didn't get the chance to do any scrapping this weekend but I did find a goody at a rummage sale and installed it in my scraproom while cleaning house yesterday. Some of you might be interested........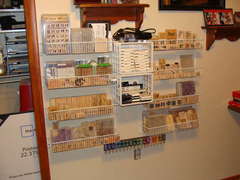 stamp storage
By
J3Mel
I haven't been using my stamps because they have been tucked away and I forget what I have.......now they are all where I can see them again
as for the questions.....
If you really know me you would know I like to....
go to rummage sales, reorganize my scraproom every little bit, ride horses and watch my kids play sports even though it makes me really nervous and I chew all my fingernails off the day before a game
If you really know me you would know I don't like to....clean house, at all, never have, never will, hate hate hate be domestic in the house cleaning department