Up, up, up and away! Look for those stacking Sterlite 12x12 drawers to hold your paper, baskets for embellies, ribbon etc....can you put a shelf on the wall anywhere near your space? Maybe get rid of the dresser all together and go with the white stacking cubes from A's, M's, etc...they won't take up any more space than the dresser, but are designed to hold the 12x12 paper and can be configured in lots of diff ways to work for you. I only have a corner of my bedroom for my scrap stuff too, here's a pic, good luck!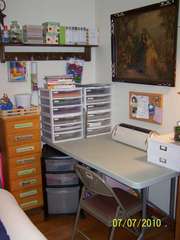 Scraproom-Scrap Corner in my BR
By
ScrappyMama6
I have since moved the painting above the table and have a wall shelf there too for my Stickles, flowers, stamps, inks etc....