~*~DAILY CHALLENGES~*~
BONUS POINTS: YOU MAY TAKE +10 pts for completing the daily challenge by 11:59 pm (PST) on the same day/date that it was posted for! (SO the 9/2 challenge needs to be completed by 11:59 pm on 9/2 to take the +10 bonus points.)
7/1:
Set up your daily challenge blog, your monthly goals blog, and your signature line. Then share the links to the 2 blogs here and take +125 pts!
7/2:
Use a list on your project with at least 7 things on the list. It could be anything from a wish list to a grocery list to a list of the top 10 reasons you love your spouse! If it is hidden please include a close up picture! +150 pts
7/3:
What is your favorite current trend (ex. owls! handmade flowers, cupcakes, etc.)? Share with us for +25 pts AND use it on a project for +125 pts! This is a 2 part challenge, you cannot take credit for completing it unless you complete both parts!
7/4:
Independence Day! Generally red, white, and blue are used on this holiday. We are going to put a twist on this. No red white and blue this time. Here is how we will symbolize some of the icons for Independence day.
Independence:
Use only 1 photo on your LO.
Fireworks/Sparklers/Celeb ration:
Use the brightest, shinniest bling you own (make it sparkle!)
Flag/Stripes/Our Country:
Use three bright colors of paper (pp and/or cs) and with one of those papers use a banner on your lo.
Hope you have fun with this! 275pts (LO only)
7/5:
Today I gave birth to a healthy baby boy 20 years ago!! Labor and delivery can be long and "tough"! How we remember huh!? Today we are going to deliver a LO in a timely fashion, lets take the long and tough out.
Deliver a Timed LO:
First start with a clean surface (no supplies, pictures, etc) at your reach. Think of what you want to scrap ahead of time. From the "first item" you touch to start your page, you have "30 minutes" to complete (deliver) your finished page. 161 pts
7/6: Mix and Match
Use the color you
dislike the most
"and" the color you
love the most
and combine it with either "one" the these colors: BROWN, BLACK, OR WHITE. 200pts
7/7:
Paper Piecing:
Paper piece something (fonts not included) apply to page 90pts. Apply to card 60pts.
7/8: Frame it:
We often put embellies on our photos, or overlapping them, or just mat them. Spice it up a little, this time actually frame it. Frame atleast one of your photos on your page. (LO only) 115pts
7/9: Space:
We all need some socially, on our desks, etc. Lets give our pages some space. Create a LO with
60%
negative space. 150pts
Card with
50%
negative space. 80pts
7/10: Twinkle, Twinkle Little Star:
The ones we scrap/scrap about are twinkles in our eyes in one way or another. Add 11 stars (cut outs, die cuts, chipboard, brads, eyelets, buttons, gems, stickers, or punch) to your page. Excludes patterned paper "unless" you "cut the star from it." 200pts
7/11:
Today I am feeling blue. Make an LO (125 points) or card (75 points) using mostly blue . If you make it all blue monochrome you can add an additional 25 points to either.
7/12:
I need a pick me up after yesterday so I'd like to see flowers, lots of them! Layouts only please – use up to 5 flowers for 100 points, use up to 7 flowers for 125 points, use 8 or more flowers for 150 points.
7/13:
today is Embrace Your Geekness Day. So show me an lo expressing your geekness or that of someone you know for 150 points
7/14:
Sketchy Thursday. Use this sketch on a lo for 150 points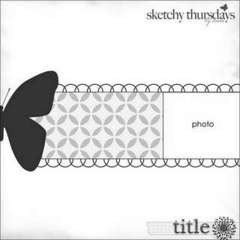 7/14 Sketchy Thursday
By
Njr007
7/15:
Christmas in July! Take out your old Christmas photos and make a Christmas layout for 300 points
7/16:
I have a ton of ribbon and lace that I do not use enough. So use ribbon or lace on your project for 100 points. If you use both add an additional 50 points.
7/17:
I'm having dinner with friends this evening. Let's celebrate friendship. You can make a card for a friend for 75 points or make a friend layout for 150 points
7/18:
Use a cliche finder to locate a LO or card title for 100 points then post here not only the search term you used but also the list the cliche finder returned.
If you make a LO with the title and post it here, take an additional 50 points for a total of 150 points.
If you make a card with the title and post it here, taken an additional 25 points for a total of 125 points.
Here's a cliche finder:
http://www.westegg.com/cliche/
7/19:
Make your TITLE the significant design element of your LO for 125 points or on a card for 100 points.
7/20:
Tie twine or string on your LO for 125 points or on a card for 100 points.
7/21:
Make a LO (LO only) about one of your favorite songs and depict or journal about why it's important to you for 200 points.
7/22:
In honor of summertime and lots of sunshine, make your card or LO primarily yellow.
If you make it monochrome take 150 points for a LO or 125 for a card.
If not monochrome, then take 100 for a LO or 75 for a card.
7/23:
Saturday's challenge is to put lots of snowflakes on your card or LO. This is in honor of the Winter in July celebration I'm going to take my grandkids to tomorrow morning. There's going to be lots of snow for them to play in.
Use at least 5 snowflakes for 150 points
7/24:
Make a pocket, envelope, pouch, or attached booklet with hidden journaling or hidden pictures to your LO - so LO only. Make sure you show us where the hidden journaling or photos are.
This is for 150 points.
7/25:
As you probably know, I live in Oklahoma, and what that means is that I have been living under the worst heat dome in recorded American History. I haven't seen the thermometer below 105 since the first week of June. And there is no water - no rain, the grass is dry, the pasture is burned up, and the central part of the nation is suffering.
This is an environmental crisis of the worst proportions we've seen since the dust bowl.
Today's Challenge : I am desperate to see water - I do not care what form it takes ...swimming pools, rain, oceans, beaches...anything wet. Anything cool. Anything that reminds me that water is out there...
Scrap a layout using water for 150 points.
7/26:
Accept my apology for 150 points. :-)
7/27:
(To collect +10 bonus pts for completing same day, you must have posted this daily by 9 PM EST on 7/28/11.) The temperature today hit 115 degrees. There is not a cloud in the sky. Use sky blue and cloud white in your layout today -- 150 points.
7/28:
Here's something to think about and use for your inspiration today --- 150 points.
Yesterday is only a memory, and tomorrow is only a vision, but each today, well-lived, makes every yesterday a memory of happiness and every tomorrow a vision of hope.
hours.
7/30:
(Saturday Sketch Challenge) Use this sketch to create a project for today!
7/31:
Seems like this week just got away from me in a big hurry. I'm normally much more on top of things, but I've been struggling with my computer for most of the week. It just doesn't seem to get that I have obligations.
Today is the last day of July and the first day of the week. That presents an interesting twist.
Scrap something that has one "last" and one "first" on it. I'll leave that open to your interpretation. 150 points!