Hey Neighbors!
We have two classes coming up today and tomorrow, on Live with Prima. The classes take place live but remember-they are also recorded so you can watch them anytime!
See the classes and recordings here:
http://www.ustream.tv/channel/primaflower
International Show: Canvas Mini Album using Printery Collection
With Trisha Ladouceur
Wednesday, December 28th at 11:00am PT/ 2:00pm ET/ 7:00pm GMT
Using the timeless "Printery" collection of papers and coordinating embellishments, Trisha will guide you through this beautiful mini album designed to showcase your cherished memories from 2011. This album is bursting with flips, flaps and pockets galore perfect for storing additional trinkets and treasures that help to tell your story.
843489-Printery "Emperor"
843496-Printery "Pressman"
843502-Printery "Negative"
843519-Printery "Signature"
843526-Printery "Page 4"
843533-Printery "Monogram"
843540-Printery "Love Ledger"
843557-Printery "Folio'
551308 -Art Tiles- Printery
544225- Alphabet Stickers OR
531171-Alphabet Stickers- Black
552527-Essentials- Printery
553296-Coventry Rose- Printery
552480-Avon Rose Printery
551414-SIIC
920838-DD 4X6 Canvas Refill Pages
550455-Black and Cream Ric Rac
550479-Printed Twill
550516-Cream Fancy Ric Ric trim
550592-SIIC Swirl
Paper Crown with Cari Fennell
Thursday, December 29th at 6:30pm PT/ 9:30pm ET/ 12-30 1:30pm Sydney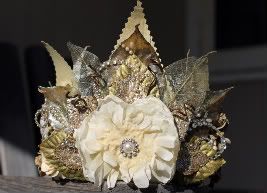 Join Cari for this fun class, to create something unique and beautiful! I will show you how to put together a gorgeous Prima crown fit for a queen. This project can be made for a special friend or to display in your home.
Prima Products:
545710-Headband
890773-Resin Birds
539269-Gold Temple Leaves
544553-SIIC and Pearls
546267-Arcadia Roses
551988-Parchment Petals-Antique
530266-Leaves
547240-Precious Metals
547240-Annette-Evelyn Collection
552480-Avon Rose-Printery
543761-Orchard Mix-Drew Drop
843540-Printery-Love Ledger
Extra Materials:
Glimmer Glaze-Pewter, Champagne
Glimmer Mist-Wheatfields
Folk Art- Metallic Gold
Fabri Tac
Paint Brush-1/2 in.