Well, I was thinking if your style was on the chabby chic side or a vintage twist was to your liking... I think you could make some beautiful pages!!! I consider...just my opinion of course,,, that the brown would be a nice contrasting, or complementary color...
If your wedding had any natural or natured accents,,,for instance birchbark wrapped candles as centerpieces at your reception...or parchment invitations...
Or if your Hubby is an outdoorsman or if you both are say hikers...like the forest, lake, mountains, ect.

I don't know anything about you and I'm simply trying to suggest different ideas.

Tell us more about your accents at the wedding, your likes and dislikes...
Are you a classic, clean lines, bold color scrapper?
Do you like any distressing?....
I hope this is helping...LOL!!! Tell me to bug off anytime...I don't mean to intrude, just trying to get a "feel" of what you'd like.


I love the vintage romance feel, distressing can be really pretty too. We love the outdoors
Our wedding reception was in a lodge with snowflakes hanging from the beams...we also had two Christmas trees flanking the sides of a fireplace...on the fireplace we hung stockings with the names of everyone in our wedding party. Here is a photo....not sure if that will help...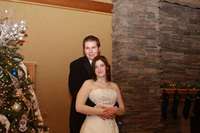 Wedding DEC 2008
By
Studiocbychelsea
hoping this helps...Thank you so much for your help! it means a lot...