Hey Neighbors!
We have rescheduled Marion's Printery album for tonight! She has lots of great ideas and techniques to share with us...
All of these shows are free and if you can't make it to the live broadcast, you can always watch the recording later on the same channel.
Create a free login on ustream.com and join in our live chats that take place during every show. The chat is located next to the video screen on our channel.
See the class here:
http://www.ustream.tv/channel/primaflower
Hope to see you there!
Printery Album with Marion Smith
Thursday, May 24th at 6:30pm PT/ 9:30pm ET
5/25- 1:30am GMT/ 11:30am Sydney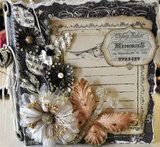 Join Marion as she creates this sweet little book with Prima's Printery papers, embellishments and more! You will love the color scheme and the vintage look of this project.
Prima Products:
552091-Meredith-Merlin
843557-Printery-Folio
843526-Printery-Page 4
843489-Printery-Emperor
843496-Printery-Pressman
843502-Printery-Negative
843519-Printery-Signature
552671-Breton Vines Chronicle
930059-Vintage Trinkets
930028-Vintage Trinkets
539139-Calcutta Leaves
534158-Sprites No. 3
551414-Say It In Crystals