12 X 12 Seasons Swap
I did a swap similar to this a few years ago. I condensed it to make it easier for completion by dividing it into 2 groups.
Group 1
is September to December
Group 2
is New Years to spring.
You will pick one of the 6 themes and make 6 sets of "2" pages for each spot. Example, Fall is 1 spot = 2 page layout. You will end up with 12 finished pages once it's swapped out. Mail me 5 sets and keep your own to reduce postage costs. Great way to get some easy pages done.
This is a
quality swap
, and will be a
fairly expensive
swap PLEASE consider that when signing up. You will be using 12 sheets of quality cardstock minimum – apx $8 to $12 not including embellishment, pattern paper etc. Also, this is an expensive swap to mail.
You may sign up for one or both groups.
Requirements
–
Bazzill or other QUALITY cardstock.
Each layout must include a title that goes along with the theme.
Must include a minimum of 2 photo mats/spots and 1 journal box/spot.
NO flat stickers unless you post how you are using them and get a group agreement.
NO neons or brights unless you post how you are using them and get a group agreement.
I will not make requirements for embellishments to give you artistic freedom, however plain layouts with NO embellishments will not be accepted.
Post your layouts by the end of August. You don't have to be completely done, but you must have one set of your basic layout completed and posted. This will keep everyone on track.

Group 1
Fall: RN2007
Back to School:
ScrapAngel4

Halloween:
TJCraftyWitch

Thanksgiving:
Faithscrapper

Christmas:
All4ty

Winter:
Drayia
Group 2
New Years 2013
Faithscrapper
Winter:
RN2007
Valentine's Day:
All4ty

St. Patrick's Day:
Baingl
Easter:
Croppinoasis

Spring:
:Drayia
Due Date September 30th
Mailing - Anything mailed AFTER September 15th must go Priority with delivery confirmation (tracking). Because this is an expensive project I highly suggest that all packages be mailed with tracking.
Each package needs to include return postage. $ or stamps acceptable. If you are not mailing back flat rate please include extra postage in the event the pages you receive back are heavier.
Can't wait to get started!!
Trivia Question Winners:
Praise and Suter - Faithscrapper - BG Bling Cupcake
Mall of America - All4Ty = Bling "thankful"
Voyageurs National Park - Drayia = Denim Brads
Itaska State Park - Faithscrapper = Studio G Cupcake Stamps
Minnesota State Fair - All4Ty = Snag Em Castle stamp
Lake Superior - Drayia =
First Pages Received = Baingl
Pikes Peak = TJCraftywitch
MSP/Lindburgh Terminal = TJCraftywitch = baseball buttons
Sandy Eggos = All4ty = blue velvet ribbon
Group 1
12 x 12 layout swap
By
RN2007
Back To School
RN2007's 12x12 seasons swap
By
ScrapAngel4
Thanksgiving
Thanksgiving
By
Faithscrapper
Winter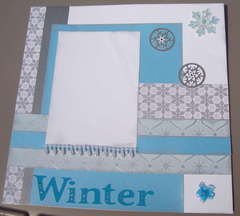 Pg1 Winter Wonderland
By
Drayia
Pg2 Winter Wonderland
By
Drayia
Christmas
Group 2
New Years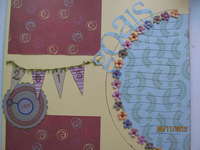 2013 Goals
By
Faithscrapper
Easter
Croppinoasis