I just got one myself but haven't used it either! I did use it at a some classes I took though.
There are two different types of wires sold for the machine: the regular wires and the spiral wires. You could also run ribbon or twine through the holes, or if you use fewer holes, you can put rings in them and then decorate the rings with ribbon.
Watch Me Grow Mini - Cover
By
Provinca
Breast Cancer Mini - cover page
By
Provinca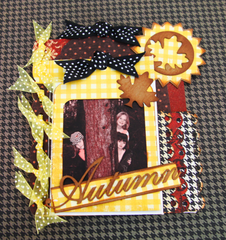 Autumn Mini
By
ScrappinKate
Although there's never really and "right" or "wrong" way to do it, if you want the entire front cover to have paper on it, you would adhere the paper to the cover (chipboard or whatever you're using) before you punch the holes in it. Also, if you're coloring the cover (paints, mists, etc.) you'd do that before you punch the holes as well.
Was that confusing???