Okay had to share!
My Smash book - I got the pink one:
Got My Smash Book
By
Doreena
My first page: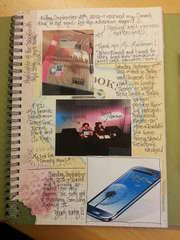 1st Smash Book Page
By
Doreena
Nothing fancy...just a few pics printed on regular copy paper and taped in, w/ a description of my weekend and a tiny bit of doodling and one random fact about me related to one of the subjects that I am highlighting from my weekend. (kinda like "Pop-up Video" from VH-1, LOL!)
It is super simple but I had fun w/ it. Trying to decide if I want to stay super simple. I think I will because I already buy so many embellishments for my scrapbook pages.