congrats round 1 winners!!!!
Quick question....is someone supposed to pick for me? I know I was late to the game, so if I was too late, just let me know.
Ha - I just put my picks for you on the first page and came here to do an individual post to tell you that I have picked for you...are we sharing a brain this morning?
If we are then you are getting the short end of the stick because mine is barely started.
Anyway - here are my choices for you:
After looking through your favs I realized that you pick a lot with lots of punching and layers so...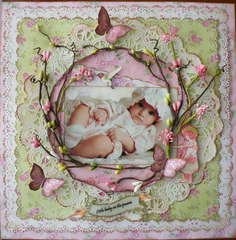 Little baby on the prairie (part II )
By
Rainbow151
And the artist who made this card appears many many times in your favs (with good reason I should say):
Anniversary Card
By
Kelseymel
Have fun!