I tried sewing on a LO for the first time the other night! With my sewing machine. It pretty much turned out as a disaster! I even practiced first! Anyone have some pointers? Also, I know I have seen people sew around stuff in a circle-how do you do that? 'Cuz that was what I wanted but I ended up with a football shape and plus, couldn't turn the paper all the way around because it was too big to fit under the machine! Like I said, it was pretty much a disaster!!!
Well, sewing small circles is pretty difficult. You have to stop, going around the curve, with your needle IN the paper, lift up the foot, swivel the paper, put the foot down and start sewing again slowly, repeat as necessary.....but go
really slowly
.
Larger circles are easier but I still do them a bit sloppily....I like the way that looks (like the layout below)....
Alison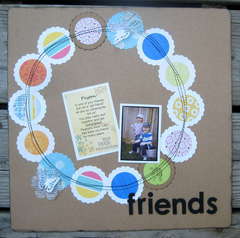 Friends
By
Kiyawinn