Thank you for the replies already! So quick!
Yes I've been ALL over pinterest trying to figure out what I want!
In the old house I had a computer desk but that broke, and then 3, unmatching, not well sliding drawer dressers. So I would like to do away with those.
Also, in the old house the room could not be closed off from my cats or children. Now I can. So that changes how I can have things laid out. I can keep my ribbon out and hanging now if i want! Instead of smashed in a drawer!
I LOOOVE the ikea expedit systems. We just got an ikea here like 2 months ago. (winnipeg)
Here is a quick diagram of my room.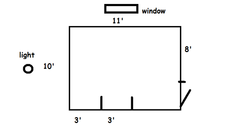 Help me plan my new room
By
Bcblondie
After seeing your room, this is my suggestion... Why don't you put a desk under the window from wall to wall(Ikea also sells desks in sections so you could get one to fit)...then you could put an island in the middle of the room. Depending on how big your window is, you could fit shelves on either side of the window, above the desk.
Also, the Expedit 4 square shelves are less than 3 ft. wide so you could fit a couple of those in between your wall sections (maybe they are there to build in a closet??).....
None of the Ikea stuff is too, too expensive and you could always start with your desk and build from there.
Have Fun!
Alison