I'm excited to be trading my 1st ATC ever. But ... I think I made mine wrong. I decorated it with my initial on it sence I am the artist who made it and it's for a collection right? Here's a picture of the ones I made. Is this all wrong? LOL
Any advice is greatly appreciated.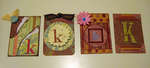 I like the k's.... seeing as it's my first initial... I'm Kimberly. They're great, ATC cards are your art, and an expression of your heart. Be proud!