ok! i'll be second! Altho i dont know if any really interested in this kinda thing..but here goes,,i like to do this so maybe someone else will too ...........
LIVING LIFE BY THE DROP
By
Bettylou1
here is a quick and really easy way to alter chipboard! sometimes i dont have an embellishment or the correct type looking letters i want so i try to find ways to alter what i do have!..i know we all know you can paint something or glitter it but sometimes you want a different look!..this may be something you might want to try! its fun, cheap!!,and so easy to do!... in this first example i used letters already pretty, but i wanted to fancy it up just a bit...
i took paper sticker ribbon by k&co and stuck in on my shirt a few times!
yes! i did! (you dont want to damage the chipboard by taking it off when too sticky!) ,,this makes it less sticky then i applied it to the chipboard letters, and just inked over it! then i pulled it off carefully and ....they look so much different!! just think of all the things you can use as a mask and give it a try!
in this next example..i used tissue paper for wrapping and decopodge! but school glue that dries clear with a little water added will do just as good!..
then i took my tissue and wadded it all up making it nice and wrinkley (is that a word? LOL) then i straighten it out a bit..added the glue to the chipboard and carefully smooth it over the chiboard creating the winkles i want as i go..you have to use quite a bit of glue for it to look right..it will not look so good tho until it all dries!
then i just cut the tissue to fit under the bottom of each element a bit to hide all the ugly edges..! that's it! i believe i inked the tissue just a bit before i applied it also.. if you want your chipboard shiny you can use a paintbrush after it dries and go over the whole thing with a coat of decopodge...have fun!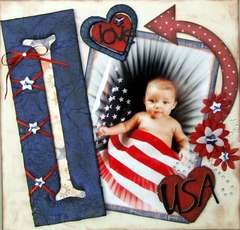 I Love USA
By
Bettylou1
Proudly Bear The Colors
By
Bettylou1