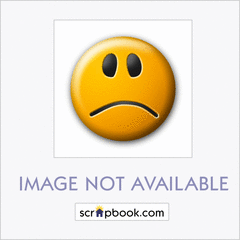 Grace & Jack
By
Belle*
Heritage layouts are my first love, and are what my first serious scrapping was all about. To me the most important thing is usually finding the right paper. I like Cosmo and some other heavy dark papers for this era. I reach for Daisy many times when I do my mother from the era of the 30's and 40's. My dad's family -- a totally different paper, they were from the hills of Virginia.
Here I chose
Cosmo Cricket
papers. I like the effect of placing a pattern over a solid. I tear, roll, and ink the edges of my top layer for an older look. Everyone does this differently, I use a ruler that has a rough patterned edge to it – specifically made for tearing paper. Sometimes I use a distressing tool next, depending on how much tearing I want. I roll the edges with my fingers, and use distress ink on the whole perimeter.
I chose my
patterned paper
color to match his tie/her scarf. I am afraid I do see the late 1800's through about 19120 in brown LOL!! I look for embellishments fit the time period and photos, as we all do. Nothing special about what I did there. I chose a scrap of lace because of Grace's lacey blouse, and the old post card and pocket watch bits suited both photos. Jack had a similar pocket watch.
I altered my letters to match -- I can't remember what color they were, I think pumpkin color?? I inked with several layers of Ranger Distress Ink, letting it dry in between. The top layer was a Ranger distress ink that comes in a bottle with a dauber top. That worked out beautifully making them look old.
The texture bits on the flowers and here and there are snow texture that I heard about from CATZ!! LOVE it! The little journal ticket is another
Tim Holtz
/Ranger product......I find I use these products a lot in my heritage layouts. I used one blue flower because of Grace's blue eyes.
This is going to be a very interesting thread. Only a few posts and I've already picked up a trick from Betty!!