6X6 Baby A-B-C Album
Due: September 20th
This swap is for a baby girl &/or baby boy ABC album. Each page will have the letter, a saying, embellishments, and a place for at least one photograph.
Each member of the group will choose a letter(s) and a phrase then create 26 6X6 pages, 1 for each member of the group. Each page should have the letter, be embellished, and have a baby related saying that goes with the letter. For example- B- B is for baby face. C- C is for cuddling with mommy. Z- Z is for catching some zzz's

All work should be something that you would like to have in your own books. So embellish the heck out of the pages & HAVE FUN!!
no handwriting please. :)
WHEN READY TO MAIL PM ME FOR THE ADDRESS. please mail the same amount of postage it took you to mail to me plus two or three extra stamps. all unused stamps will be returned to you.
here is a beautiful example by scrapnteacher
baby album example
You must check in weekly, as well as when you are postal.
Feel free to post the Pages in Progress & give everyone a little taste! If you allow public embedding when you post your page ill add it here in the first post. :)
GIRLS ALBUM PREVIEW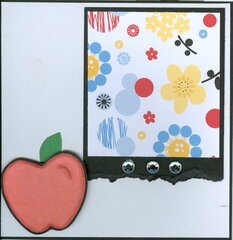 Preview of A page of 6x6 ABC baby album
By
GinaAlyshia
ABC Baby Album Swap
By
Hannahsaucier
6 X 6 ABC Swap
By
Margy
W is for Wobbly Walking
By
CP
BOYS ALBUM PREVIEW
Preview of Baby Page - D for Duckies
By
Loveangelmommy
E is for Eating Cereal
By
CP
Father and Son
By
CP
ABC Swap
By
Margy
Mommy and Me
By
CP
Preview of a page of 6x6 ABC Baby Album
By
Amigosa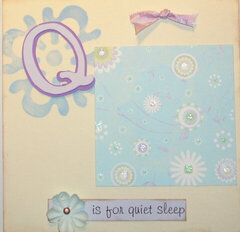 q is for quiet sleep
By
CP
*if you want more than one book, you can do more than one letter!!*
BABY GIRL ALBUM: STILL WAITING ON THESE
B-nannette13-B is for Bathtime
D-MarineMomOfACM-D is for Daddy & Me
L-scrapnwest-L is for Love
O-mcmc787-O is for
S-ScrapOMatic-S is for Sweet Smile
X-Desperate housewife-X is for XOXO
Y-mcmc787-Y is for
BABY BOY ALBUM: STILL WAITING ON THESE!!!
B-nannette13-B is for Boys will be Boys
I-MarineMomOfACM-I is for I Love My Daddy
L-scrapnwest-L is for Love
X-Desperate Housewife-X is for XOXO