Toccara Feliciano
6426 Oaktree Ct.
Tampa, Fl 33610
Hello I am finally back to host another swap. the last big swap I hosted was a hug success back in early 2010 and I am finally ready for another after having a rough ending in 2010. Here is a swap that I though would be nice.
FABRIC ART TAGS
These tags are just what they are called art. They are sort of like ATC's, you can add whatever you like on the tags. They are for scrapbook layouts and they are considered a tag that is fully embellished and used as an embellishment to complete a page. here is an example: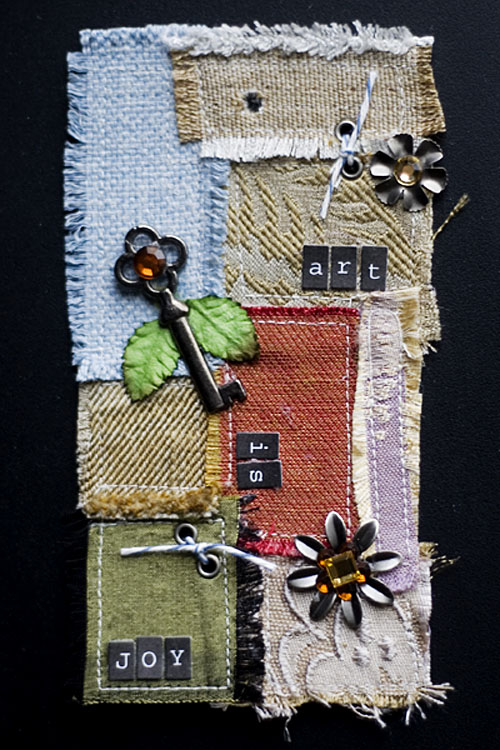 I think these are so darling especially if you like fabric and want to play around with it to make something beautiful.
Rules:
You must have a sturdy base as chipboard, cardboard. If you are advance with sewing and you will be sewing you wont need a base such as chipboard or cardboard. I don't want the tags falling apart so only if you are advance with sewing you are not required to use a base.
You must use fabric
It is a fabric art tag so make sure you have fabric or want to purchase it before signing up. you have to use atlest 4 different types of fabric My cardboard is measured around 2.4in x 2.3in so we can start there as the smallest we will go. IF you want to go bigger that is your choice but remember everone else may not go bigger so keep that in mind.
You Must include a word on the tag
. The tag would not be complete if it did not have at least one word.
You must include at least two embellishemnts
.
You can sew or glue on your fabric your choice. No themes just go for what you know!
You Must make 4 tags!
We are all talented ladies here and I am excited about this swap!
Shipping rules: Please seperate the tags in individual bags with your name on each of them on the back or on the baggie. Include an extra envie for your tags with your addy and postage already on it...this makes it so much easier. Put the same postage and an extra one or two stamps on the postage to ensure there is enough postage or for heavier tags.
upload pics of your creations so that we can see.
QUALITY LADIES IS A MUST: We all have different styles but make sure you are doing you best and sticking to the rules. I have been in swap where some did not stick to the rules and I added everything on my creations that I was supposed to and got back something that was half done or not even close to what we were asked to have. I will not distribute out items that are not in compliance to people that followed the rules. It is not fair and I don't have the heart to do people that way. As hostess I have to make sure that all rules are followed as to quantity of embellishemnts and such.
DUE DATE TO MY HOUSE IS
APRIL 20th
I want to give everyone time to get these done.
Happy Creating!!!!
If I left anything out let me know it has been awhile since hosting and I may have left out important info! SWAP WILL CLOSE IN & DAYS FEB 27th
International please send in enough time to be recieved by due date! Thanks!
PARTICIPANTS:
1.Crafty Lefty
FINISHED
2. Huskersfan
RECEIVED
3.DKravec
RECEIVED
4.Scrappinggrand
FLAKED
5.Andiebee
RECEIVED
6. Martica
RECEIVED
7. Midnitescrapper
RECEIVED
8. Moon Puff
RECEIVED
9. Cutencrafty
RECEIVED
10. Stretch9089
RECEIVED
11. RosieNJ
RECEIVED
12. amymwz
RECEIVED
13. Scrapbooking Teacher
RECEIVED