This swap is for Monos, Munchkins & Minis ……small dies cuts or shapes much like inchies, twinchies & trinchies but with a bit of a twist!!
Traditional Inchies/Twinchies/Trinchi es are:
Inchie: 1 inch x 1 inch shape of your choice decorated with at least 2 embellishments
Twinchie: 2 inch x 2 inch shape of your choice decorated with at least 3 embellishments
Trinchie: 3 inch X 3 inch shape of your choice decorated with at least 4 embellishments
These are TOTALLY acceptable to make for this swap if that's how you choose to do yours
or you can make…
Monos/Munchkins & Minis
Monos: 1" shape of your choice decorated with at least 2 embellishments
Munchkins: 2" shape of your choice decorated with at least 3 embellishments
Minis: 3" shape of your choice decorated with at least 4 embellishments
The big difference is that Monos/Munchkins/Minis do not have to be put on a base that is the same height & length (ex. 2" X 2" square). They can be any shape (ex. Grasshopper that is 3" tall but only 2" wide) more like an embellished die cut without a base!!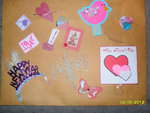 Examples for MMM Swap!
By
Scrap Princess72010
You can use anything you would like to embellish!! Your imagination is the only limit!!
When you are finished with your FABULOUS creations please put your items in a zip lock bag with the name of the swap, group it is for, your scrapbook.com ID and your name.
Ex. Monos Anything Goes (ATG) Group A
Cassondra71
Cassondra
PLEASE make sure to put your name on the back of each piece that you make so when someone uses it they can thank you!!!
MUST READ UPDATE:
To make it easier at the post office unless you are basically signed up for one or two groups and send a smaller envie please send 1.95 in postage, plus 2 stamps just in case. I don't think that any envie would be over three oz. but that is a just in case. My post office says all the envies cost 1.95 to send as long as they are under 3 oz.
Include a self-addressed envelope.(any unused stamps will be returned) I don't mind reusing envelopes as long as they are in good shape, self-addressed label so I can send it back to you. If you are in several groups I would recommend a padded envelope or small box so that your stuff doesn't get squished in route to you.
Due Date is

May 1, 2012

PLEASE have them in my hands by that date!!!

Sign-ups will be taken until April 15, 2012

I will pm you my mailing address when the swap has closed.
Please check in once a week and if you aren't going to be able to meet the deadline just let me know as soon as possible, we all understand life happens.
There will be 7 people in each group. 6 of your items will be swapped ….one per person in your group. PLEASE send all 7…..the extra item will be saved and put aside to be used to fill in when a group doesn't fill all the way up.
One name will be drawn each month from all the names of the people who got their package to me by the due date. The winner will receive
a special MMM from everyone
and be able to choose one category/theme for a group the following month. Post marks DO NOT count…..your package must be in my hands by the due date in order to have your name put into the drawing.
If you have any questions just ask this group of ladies is so wonderful, helpful & fun!!
Each theme will have its own set of groups instead of the Monos, Munckins, & Minis having the groups I am going to do it by theme, so it will be a little less confusing for me. ( I hope the change doesn't bother anyone.) I will add on Groups as we go and each group fills up. We will still be only filling up to Group C. Once that group is full the theme will be closed.
Thanks so much for participating!! Have fun!!!!
******PLEASE READ******
The due date each month is the 1st
If your package is not here by the first or does not arrive by the afternoon of 3rd you will not be included in that months swap. Your name will be removed from the group list and I will do my best to fill in that spot with the extra items I have been collecting so that the group is still "full".
If you know you're not going to make it by the due date just let me know, I know stuff happens and it's not a big deal....You can just keep your package and use it for the following month. If I receive your package after everything has been swapped and mailed on the 4th I will give you the option of having your package returned to you (package denied - return to sender) or I will keep it and use it for the following months swap.
If you have any questions, input or think there's a better way to do this please feel free to let me know I am always open to hearing your thoughts and ideas.
Thanks for understanding and making this swap go smoothly!!
Changes Made!!
Also, we are starting to make one extra special MMM of your choice for the winner. It can be any size and any theme you would like. Just make sure that it is in a different baggie so I will know which one to send to the winner.
This month we are also including an anything goes group with a color theme. Each month I will have a color group as well as the normal ATG groups.
Winners Choice:
Jenbustillo -Military/Heroic Any Size
Group A
1.)Jenbustillo
2.) Charcats
3.) denielle.c.podraza
4.) Melissa Birlem
5.)
6.)
7.)
Winners Choice:
JenBustillo Military/Heroic Any Size
Group B
1.) Charcats
2.)
3.)
4.)
5.)
6.)
7.)

Monos: Anything Goes

Red

Group A
1)Melissa Birlem
2)
3)
4)
5)
6)
7)

Monos: Anything Goes Group A
1.)
2.)
3.)
4.)
5.)
6.)
7.)
------------------------- ------------------------- -----------------------
Munchkins: Anything Goes

Red

Group A
1.)
2.)
3.)
4.)
5.)
6.)
7.)
Munchkins: Anything Goes Group A
1.)JenBustillo
2.) CharCats
3.) YourScrapAttack
4.) Melissa Birlem
5.)
6.)
7.)
------------------------- ------------------------- ------------------------- ---------------
Minis: Anything Goes

Red

Group A

1.)
2.)
3.)
4.)
5.)
6.)
7.)
Minis: Anything Goes Group A
1.) JenBustillo
2.) YourScrapAttack
3.)
4.)
5.)
6.)
7.)
------------------------- ------------------------- -------------------------
Monos: Bring May Flowers Group A
1.)
2.)
3.)
4.)
5.)
6.)
7.)

Monos: Mother's Day Group A
1.)
2.)
3.)
4.)
5.)
6.)
7.)
------------------------- ------------------------- ------------------------- -

Munchkins: Bring May Flowers Group A
1.) denielle.c.podraza
2.) Melissa Birlem
3.)
4.)
5.)
6.)
7.)
Munchkins: Mother's Day Group A
1.)
2.)
3.)
4.)
5.)
6.)
7.)
------------------------- ------------------------- ------------------------- -----
Minis: Bring May Flowers Group A
1.)
2.)
3.)
4.)
5.)
6.)
7.)

Minis: Mother's Day Group A
1.) Melissa Birlem
2.)
3.)
4.)
5.)
6.)
7.)
Participants in this swap:
*** A
will appear beside your name when your package arrives****
Jenbustillo
Charcats
YourScrapAttack
denielle.c.podraza
Melissa Birlem