Hey there fellow Scrappers! I'm relatively new to the world of challenges here on Scrapbook.com, in fact I just participated in my first one last month, and I thoroughly enjoyed the experience. This month I've decided to host a challenge of my very own.
Welcome to the NEW Monthly Sketch Challenge!
One of my favorite & most used tools in my scrapbooking happens to be
sketches
. I've been using them for years & love how a great sketch makes a page seem so much simpler to put together when you are feeling overwhelmed by the # of photos/all the embellies/different papers, etc. or when you can't seem to come up with an original idea for the page you want to create. I am in constant search of inspiration & I've found sketches to hold a wealth of it when I am stuck or in need of an idea to get me started on my next project.
So this challenge is for anyone in need of a little creative jump-start or inspirational push to get them back to scrappin' & preserving those treasured memories...or for those of you who like me have used sketches and know how valuable they can be & love them as much as I do
--and did I mention there will be prizes awarded for the winners!
Yes I said
winner
s
meaning
more than one
! That's right fellow scrapaholics--I will be giving away prizes [in the form of various scrappin' goodies from my own personal collection], to the creators of the LO's w/the most votes @ the end of the month.
Do I have your attention NOW?
If so, here's how to play:
1. Reply to this topic & let me know you are game!
2. Every Mon. in August--
[w/the exception of Aug. 31st since that will start the month of Sept.'s challenge],
--I will post a new sketch that you will have exactly 1 week to complete & upload/share with the rest of the class. Entries MUST be posted on the thread no later than the following Monday by 12 noon PST[4pm EST].
3. Players may join anytime during the month and DO NOT have to complete all 4 sketch challenges to qualify for a prize. However they DO have to check in more than once a month & be actively involved in the thread, [i.e...leave some love/comments for other players] as well if they would like their work to be eligable for a prize.
4. At the end of the month all players should PM me their top 3 Favs for each week & the 3 LO's for each week w/the most nominations will then be put to a vote. ALL members of SB.com will be eligable to vote for their favs...after which 4 winners will be selected[one for each week of the month]. Winners will be announced & then must PM me their contact info[shipping address/email], so that I can send them out their prizes!
***~
Public Embed and Upload to Challenge...
~***
1. Once your LO is uploaded to the gallery Go to your gallery and click on desired LO. Next click "EDIT IMAGE"
2. Under small pick of LO check box for "Allow PUBLIC EMBEDDING"
3. Click "SUBMIT
NEXT...
1. Go to "LINK/SHARE"
2. In box with small pic of LO Check circle "IMG CODE"
3. See Small Address Box under small image
RIGHT CKICK and COPY
4. Go to Challenge
5. Go to any Reply Box and RIGHT CLICK and PASTE
Here is the link to this week's Sketch & my own example of it to help get your creative juices flowing!
Week1Sketch
(sketch this #88)
Swim Time
By
Jamariel
Happy Scrapping!
Week 1 LO's:
1.
Packing it in!
By
Senora_x
2.
ChEEsE!
By
Doreena
3.
Girl on the Move
By
MommyMarci
4.
Brandy, Bob and Marci
By
Sweet Destiny
5.
BFF
By
LuvMyPoodles
6.
Just Call Me Darlene
By
Yadee87
7.
Story of my Life
By
Kitanax3
8.
Children of God
By
TripletMother
9.
Cutting the Cake
By
Faithscrapper
10.
Sexy Tractor
By
Scrapn2
It's Monday Aug. 10th and here's the
NEW week's Sketch!
Week 2 Sketch
EXAMPLE:
Relax
By
Senora_x
Week 2 LO's:
1.
All That
By
Craftysprinkles
2.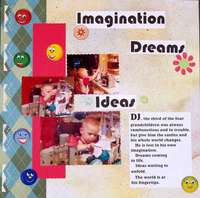 DJ
By
Sweet Destiny
3.
This is the LIFE!
By
LuvMyPoodles
4.
the Rio
By
Doreena
5.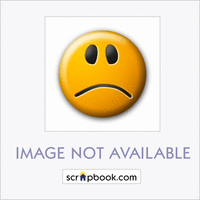 Phase 1
By
MommyMarci
6.
Flexible
By
Senora_x
7.
Whale Watching
By
Laura C
8.
Childhood
By
Yadee87
9.
Will he? Carter
By
TripletMother
10.
Taqueria
By
Scrappin_baby
It's Monday August 17th & here's the
NEW
Week 3 Sketch
And as mentioned before, here's a Bonus Sketch!
http://www.scrapbook.com/gallery/image/other/9 84701.htm...
EXAMPLES
The Overseas Railroad
By
Jamariel
For my example I chose to just do pg. 1 of this week's sketch since it fit better w/what I wanted to create.
I substituted my journaling in where the second photo was since I only had 1 pic, but tried to keep it as close to the sketch as possible.
Good luck w/this one ladies, looking forward to seeing everyone's week 3 entries! : ]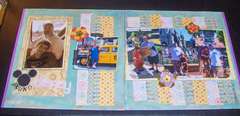 Around Disney
By
Jamariel
Here's my version of both pages of the week 3 sketch.
Week 3 LO's:
1.
It's So Hard Being Beautiful!
By
MommyMarci
2.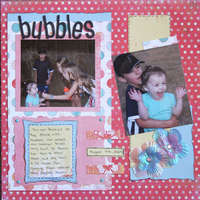 Bubbles
By
Craftysprinkles
3.
The Cochrans
By
Sweet Destiny
4.
U Can Do It
By
Scrapn2
5.
5.2.09
By
Doreena
6.
you take the cake
By
Bluucaca
7.
High On Life- pg 1
By
Yadee87
High On Life (Romantic Comedy)- pg 2
By
Yadee87
8.
Summer Fun
By
LuvMyPoodles
9.
Snow Much Fun! 2 pager
By
TripletMother
10.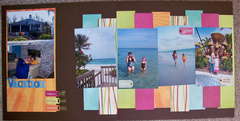 Vacation
By
Senora_x
It's Monday August 24th & here's the
WEEK 4 Sketch!
EXAMPLE:
I'm Completely ADDICTED to...
By
Jamariel
I went with a larger scale collage of photos & added multiple journaling areas around the pics in order to tell my story. Looking forward to seeing all of your creations! : ]
WEEK 4 LO's:
1.
Baby Pool
By
Scrapn2
*2.
Growing Up
By
Yadee87
3.
Catnip
By
Sweet Destiny
4.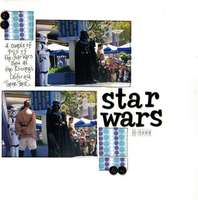 Star Wars
By
Doreena
5.
I'm Lovin' It
By
XAlysonex
*6.
My Hero
By
Craftysprinkles
*7.
Monument Park
By
TripletMother
8.
Cheap fun
By
Senora_x
9.
Hot Days of Summer
By
Laura C
10.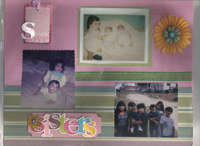 sisters
By
Bluucaca
*denotes twist