Join Me on my 1st Challenge..This challenge is about Autumn ..and when I said Autumn I mean leaves, trees, earth tones, beautiful and colorful scenes...Not only Halloween ..On this challenge I want you express what this upcoming season means to you...when you think about fall what comes in to your mind!
The Challenge will be to create LO that express your view of the Autumn season..
EASY RULES
1. This LO will need to be with Photos WITHOUT people ..or pets (wild animal are okay)...You can use a silhouettes of either one too. Scenic views, trees, lakes, porches, blankets, leaves, flowers, baskets, people (if the shot is from thier side or back (where you don't see the face of subject)..in general anyhting that said Fall 2U
2. Only Fall Colors (Earth Tones)
3.LO need to New (Sept 09)
4. You could create as many as you want ..but only One need to chosen for final consideration
5. Digital or traditional are accepted
6. The participants
need be followers of my Blog
A Jersey Photo-Scrapper!
The Winner will Receive a Gift Certificate of SB.com for 10$
Challenge Close OCT 15th
A Jersey Photo-Scrapper!
Here an Example LO!

A Perfect Day Of Autumn!
By
Jackie T
LO's From Players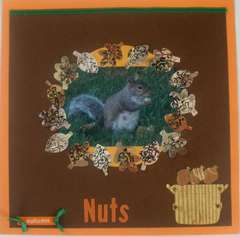 Nuts
By
Ladysha
Enjoy and have Fun!!