1) I will post a list of quotes.
2) You must have at least one of the quotes listed below somewhere on the layout. It could be the title, a quote, in journaling or whatever creative thing you come up with.* If it is hidden please pull it out a little so we can see it*
3) You can do as many Quote Layouts as you want.
(But only one can be in the challenge. So please tell me which one or I will put the first one in)
4) Must be a new layout from July 1, 2010 to July 30, 2010. Digitals are fine. Any size layout works too!
5) Please public embedd the image so I can link it on the front page. Just go to your gallery. Click edit and then down on the bottom it says "public embedding" or something similar. click that.
6) Have fun! Leave love for your neighbor! We love getting love from our friends!
Any questions please ask.
Thanks for playing and have fun.
** disclaimer ** I like to have fun on here! There will be occasions of teasing and laughter. So I hope you will enjoy it and if you don't let me know!!
Linking instructions:
1. Go to Gallery
2. On the left side is a link "Share anywhere" Click on that.
3. Box will pop up "Embed this Image" click the circle for IMG code.
4. Right below that right click on the address and copy it.
5. Go to the challenge and in your reply use the right button on your mouse to "paste" it. Then it will show up.
*** There will be a RAK this month. On July 31 - Aug 1 send me your top 5 and I will make a poll. We had such wonderful layouts and such a great turnout last month I want to show them off. The winner of the poll will get a rak from me! ***
July 2010 Quotes:
a) "Truly great friends are hard to find, difficult to leave, and impossible to forget." ~ Anonymous
b) "the bond that links your true family is not one of blood, but of respect and joy in each other's life." ~Richard Bach
c) "other things may change us, but we start and end with Family" ~ Anthony Brandt
d)"A true friend is someone who thinks that you are a good egg even though he knows you are slightly cracked" ~ Bernard Meltzer
e) "You lean on me, I'll lean on you, and we'll be okay" ~Dave Matthews
f) "Love does not consist of gazing at each other, but in looking together in the same direction." - Antoine de Saint-Exupery
g) "How often we fail to realize our good fortune in living in a country where happiness is more than a lack of tragedy." - Paul Sweeney
h) "An animal's eyes have the power to speak a great language." - Martin Buber
i) "Hold a true friend with both your hands." - Nigerian Proverb
j) "A smile is a curve that sets everything straight" - Phyllis Diller
k) "Summertime and the living is easy" - George & Ira Gershwin
l) "It's almost impossible to watch a sunset and not dream" - Bern Williams
m) Mother's Declaration...Before you were formed, I wanted you. Before you were born I loved you. When you were born I say your face and I knew that I was in love. Before you were an hour old, I would die for you...To this day.....I will.
n) "Friends are flowers that never fade. "
o) "In the truest sense, freedom cannot be bestowed; it must be achieved." ~Franklin D. Roosevelt
p) "Making the decision to have a child-it's momentous. It is to decide forever to have your heart walking around outside your body. "
q) "Ah, summer, what power you have to make us suffer and like it." ~ Russel Baker
r) "I brought children into this dark world because it needed the light that only a child can bring." ~Liz Armbruster
s) "We've had bad luck with our kids - they've all grown up." ~Christopher Morley
t) "A three year old child is a being who gets almost as much fun out of a fifty-six dollar set of swings as it does out of finding a small green worm. " ~Bill Vaughan
u) "Logic will get you from A to B. Imagination will take you everywhere." – Albert Einstein
v) "Gravitation is not responsible for people falling in love." - Albert Einstein
*Thanks ladies for the suggestions on the quotes this month!"
Layouts:
1.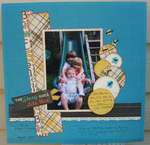 The story goes like this..
By
2girls2dogs
2.
Alexander
By
Lindaj3
3.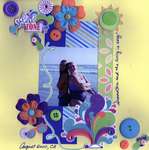 Splash Zone
By
Amanda27
4.
LN - Lovely
By
LelaScraps-n-Stamps
5.
July Quote - Gaze
By
Knittykittybelle
6.
A Smile Is A Curve That Sets Everything Straight!
By
SockMonkeyScraps
7.
Family
By
Raining
8.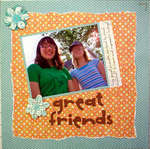 Great Friends
By
CatScrapsHere
9.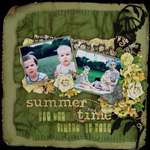 Summertime ~*Swirlydoos*~
By
GentlewoodFarms
10.
summertime
By
Melissadam
11.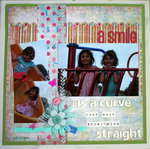 A Smile
By
DesertScrapper
12.
Hold a true friend with both your hands.
By
Melissa Birlem
13.
The Same Direction
By
Mrg68
14.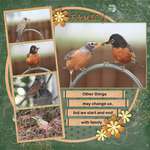 Family: Other things may change us...
By
Swonders
15.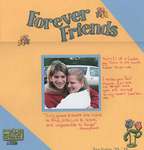 Forever Friends
By
Ramlupa
16.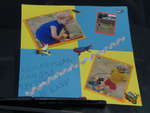 Water Guns
By
AmyRowan