It's time to VOTE!
PLEASE
title your PM with the words ROUND ROBIN votes.
Then give me your favorite three.
Use the Group and Week numbers please.
It's easier for me to put it in my spreadsheet that way.
Don't vote for yourself, but
PLEASE tell me which layout is yours and whether or not you did the twist and, if so, how many other challenges you qualified your layout in.
That should do it.
I'll take votes for a couple of days and then we'll see where we are. If it's really close, I'll poll the top three. If there's a clear and decisive winner, I'll post it.
***********************
Hi Girls.
I'm going to take on this challenge again for the month of August. If my schedule permits and my life doesn't explode around my ears, I'll continue it until we're all worn out from the excitement.
********************
Rule Guide for First Time Players -
Round Robin is a group challenge. Each player is assigned to a group for the month. Each week, one individual from each group will lift her group member's layout from the preceding week and post it on the assigned day. For every individual player, that means this forum requires only ONE layout from you. But you MUST participate because your group is depending on you to finish the round robin circle. I think I've worded this clearly, but if you have a question, PLEASE ask!
********************
Layout Postings will be due on
FRIDAYS
this round, with the first week posts due on August 10.
Week 1 : August 3 -
10
Week 2 : August 11 -
17
Week 3 : August 18 -
24
Week 4 : August 25 -
31
July Winner
is a tie this month!
Group 2 - Week 4
Love You Until The End of Time
by Ladybing Tammy (Tammy)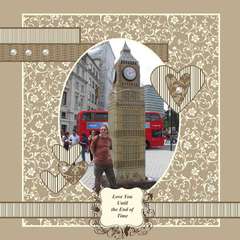 AND
Group 4 - Week 3
Delight in the Little Things
by GentlewoodFarms (Pat)