Hi, everyone! This is my first challenge that I've hosted, so please bear with me! I didn't see anything really like this, soooo....

Every holiday season I get in the mood to DECORATE! I haven't done much, but this year I resolved to do MORE! And I thought maybe you would like to join me. I plan on doing this challenge Oct, Nov, and Dec. at least.

The challenge this month is...make a holiday decor or altered item for Halloween! It can be a banner, a candy box, a candle, a witch tree, candy treat bags, etc...just not a card or layout.

For a fun twist, include a skeleton on your item!

And the rules are...
1. Items must be new from today (Oct.2nd)
2. You can join any time in the month
3. Please try to leave love! Everyone enjoys comments.
4. Please allow public embedding for your project.
5. Only one entry per person, but feel free to share other items you make!

I have a awesome RAK from my stash that will go to the winner - chosen by Random.org!
LINKING LAYOUTS TO THE THREAD:
1. Go to the layout in your gallery.
2. Go to the Share section on the left-hand side and click on 'Share Anywhere'.
3. Click on 'IMG code' button.
4. Copy and paste the code which starts [url...] into the forum thread.
ALLOWING PUBLIC EMBEDDING:
1. Go to the layout in your gallery.
2. Click on 'Edit Image' tab at the top on the left side of the layout.
3. Scroll down to the bottom left side.
4. Check the box that says, 'Allow Public Embedding'.
Participants -
1.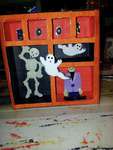 halloween shadow box
By
YourScrapAttack