Hey Neighbors!
We have another great class coming up on Live with Prima tonight! Cari Fennell is going to alter a Prima canvas camera bag using glimmer mists, plus stamping and more!
Join us for the live broadcast on our Prima channel and you can see the recorded shows here too:
http://www.ustream.tv/channel/primaflower
Here are the class details...
Canvas Camera Bag with Cari Fennell
March 8th at 6:30pm PT/ 7:30pm MT/ 8:30pm CT/ 9:30pm ET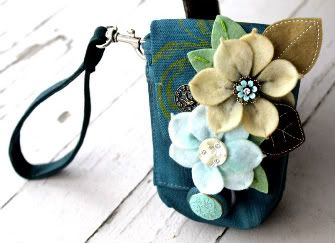 It's easy to work with canvas and this little camera bag is the perfect project to see just how easy it is! Just check out the list of techniques we will cover: we will use Glimmer Mist; stamp with paint; decorate with felt flowers; and finish off the look with vintage-style buttons. These altered mini-bags make the perfect gift for teachers, friends and teens!
Prima Products:
558543-Sassy Aqua
558574-Sassy Butter Nut
550783-Vintage Buttons
920562-Canvas Camera Bag
921163-Foam Stamp Scroll
553647-Vermont Ocre
Extra Materials:
Glimmer Mist-Denim, Olive Vine
Paint Brush-1 inch
Water Spritzer
Quick Grip Glue
Fabri Tac Glue