I posted this in another thread but got a couple PMs asking to put it in it's own thread here...so here ya go!
Many people are afraid to use their stamps on layouts because they think they will "mess them up" somehow. Here are some easy ways to use stamps on a LO without messing it up and having to toss it!
My advice for using them on a LO is to start small. Use some stamps on paper and cut them out. That way you don't have to worry about messing up the LO
On this LO, I cut out the stamped journal circles.
Fierce
By
Here Kitty
On this LO, I stamped the arrow on a piece of transparency and cut it out.
Strong Silent Type
By
Here Kitty
ON this one I stamped and cut out the transparent frame for the photo and the journal tags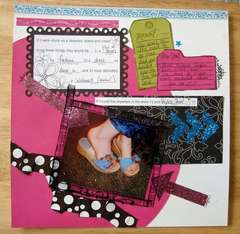 All about the Shoes
By
Here Kitty
Another thing you can do is to start with the stamping FIRST. So if you mess it up, you can just do the other side of the paper or use another piece if necessary. You're not going to mess up other LO elements because this is the first thing you're doing.
I started with plain cs and stamped swirls on this paper. A few of them were embossed with gold powder.
Once Upon a Time
By
Here Kitty