No, it's not a new snack.
I love punches but I know I'm not getting the best use out them, especially not my corner punches or border punches. I even have books, mostly outdated, that showed me how to use various punched out shapes to make other shapes.
So I wanted to get all this wonder new stuff into one area, this thread.
Share what you've learned. Please link to blogs or images in the gallery here, so we can all learn.
BTW, just got this idea from
another thread
where someone was asking about a technique to make medallions.
========================= ==========
Basic Stuff:
Fìskars Border Punches
Fìskars Squeeze Punches
T0nic Border Punch System
EK Suc¢ess Punches Demo
Get a little bit more from your Punches!
Fìskars Friday Corner Border Punch
=========================
gg loves Matthew
I just found this list and
THESE IDEAS
Ideas:
Circle:
balls, candy, wreath, cookies, bubbles, wheels, eyes, faces, bunny tails, balloons, flowers, grapes, berries, paw print (use 2 different sized circles), watermelon (half circle), oranges, animals, apple, sun, moon, ornaments, pizza, caterpillar, umbrellas -- just look around, circles are endless
Star:
sheriff badge, night scene, Fourth of July, fire works, birthday, recitals, wreath
Heart:
shamrocks, love, wedding, baby, engagement, flowers, animal bodies, lips, vegetables (carrots), cut to make candy canes, cut to make wings or arms and legs
Spiral:
hair, fireworks, tails, antennae, tongues, flower vines, dizzy eyes, birthdays, stems, fur
Leaves:
plants, flowers, vines, cut to make wings, flames
Squares:
gifts, books, blocks, letter blocks
Rectangles:
train, books, cards, flower boxes, cut to make stems, "Legos", bodies (torso), legs, piano keys
Ovals:
Easter eggs, Christmas lights, animal bodies, flower petals, leaves, heads, shoes, wings
Bears:
children's pages, carnival, circus, add bows, combine with child die cuts, combine with circles to make ornaments, gingerbread men, snowmen, dress them up
Bell:
hats, legs, flowers, petals
Tips and Techniques: Embossing with a Paper Punch
Scallop Punch Spirelli Tutorial
How to Make Flowers Using a Corner Rounder
========================= ====================
scrapriguez
: I have inquired a lot of border punches recently. I do not have any corner punches, which I have wanted to purchase. Then I found (which I have to find the video) out how to creat corners using the border punches. It is very easy and I love the look. I did these two lo's using fiskars border punches and creating corners/frames. Will come back when I can find the video.... I think I saved it. There is another video that was useful with punches as well..... have to find that one too.
Our Family *95
By
Scrapriguez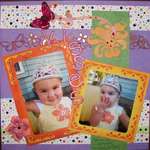 (butterfly) Kisses
By
Scrapriguez
And this one I created a journal block using the border punch. Love how it turned out.
Work Zone #2
By
Scrapriguez
Fìskars Corner Tutorial
Circle Medallion with Corner Punches
Idea with corner punch and circle decorated punch
========================= ===========
siameseplease
:
You can use the large 3" scallop, a flower, and square punches to make adorable chick cards. I'm thinking they'd not only work for Easter, but also for cards to a "cool chick" you know.
I made one and it's in my gallery. I am making another now...I was almost done when I messed it up and now I have to fix it. ARGH. They're cute, quick, and easy (if you pay attention to what you are doing, unlike me! LOL)