That's right! For this challenge, you will be scrapbooking some sort of food.
You can do your favorite food, a food that you think is interesting, a beautiful plate of food, etc.
There are a few twists:
1. No photos of people on the layout!
2. Use some sort of fun trim or ribbon.
3. Use the color brown on the layout.
As far as rules, we're pretty laid back. Try to leave some love, but don't feel like you have to hit every single person. Do your best. I don't want any challenge drive by's though! If you enter a LO, come back around a few times during the month to see what everyone has done.
Enter from now until the end of September. This challenge is for love/fun!
Here are 2 examples to get you started.
One Sweet Job
By
Here Kitty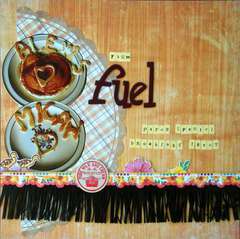 Farm Fuel
By
Here Kitty
_________________________ ________________________
Entries
Snap! Crackle! Pop!
By
Micupoftea
Sweet Treats
By
Texasrnc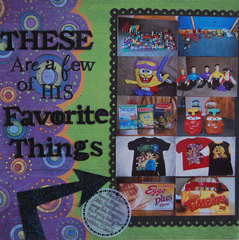 These are a few of His Favorite things
By
AQMM
Taste of Summer
By
Msatterf
To Cute To Eat
By
Ladysha
I Believe {Doughnuts}
By
MommaSaid