I too love my Cricut! But I don't use it near as much as I should...and I have a bunch of carts. I have fallen in love with Thickers and have neglected my Cricut ever since. My goal this month...use my Cricut on at least 1/2 of my layouts.
We'll see....
Also dropping off a few layouts from this week.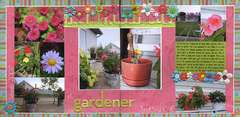 A Gardener Lives Here
By
Godschild94
Me & You
By
Godschild94
Guns & Gears
By
Godschild94
Have a great evening ladies!