Hi! My name is Stacey and I love to do 2 page layouts.
This will be a place where we can draw some inspiration, meet some new friends and share love on each other's pages. I like the idea of sketch challenges, sometimes I need a good sketch to motivate me. I will post a sketch bi-weekly. There will be no pressure though. If you finish it great, but as a mom to 2, I know that life sometimes gets in the way with our scrappy plans.
The only rule that I ask of you is to try to check in weekly. If you know you won't be on for awhile, just give us a head's up so we don't worry. If you decide down the road that your plate is too full and you just can't be a part of the group anymore, PM and let me know. No hard feelings.
Members:
1. cpowife
--Stacey
2. scharnack
--Sam
3. iuplori
--Lori
4. Legomom
--Angela
5. raindancer
--Adrienne
6. godschild94
--Janeen
7. Mary W.
--Mary
8. Becky Scraps
--Becky
9.baylorbear99
10.EmpressTrahan
--Maridee
11.Lemonade
--Lori
12.ctlyf
--Sandie
13.sbartist
--Bonnie
14.Belinda Anne
--Bella
15.mrsspec
--Amanda
16.Jordannichole
--Jordan
17.galoosh
--Vonnie
18.organized scrapper
--Mandie
19.theScrapoholic
--Jill
20.scrappingaddict
--Ann Marie
21. chicarella
22. j3Mel
--Mel
Sketches:
March 5, 2010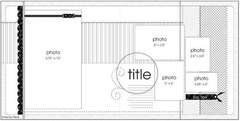 April 07 Page Map
By
Cpowife
March 19
Scrapbooks ETC. sketch 134
By
Cpowife
April 16
Jan. 07 pagemap
By
Cpowife
May 18:
Scrapbooks Etc. Sketch 205
By
Cpowife