Ok so I have several embossing folders and borders for the Cuttlebug and yes the dry embossing looks nice, but what can I do to add a splash of color? I tried using a inking block, but it leaves a little streaking..is there a way to do this technique without the streaking or is there markers I can use? Thanks in advance.....


what kind of ink are you using? I do this all the time with no problems - I usually use Cat's eyes ink pads or other inks that have a raised, plush pad. You can also use a sponge or cloth to transfer the ink instead of the pad itself.
Just Because
By
Here Kitty
i have my eye on you
By
Here Kitty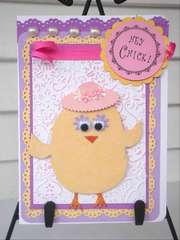 Hey Chick!
By
Here Kitty