November's Poll:
http://www.scrapbook.com/forums/showtopic.php?tid/15479...
Welcome back to challenge for all of us who have photos of friends or family who proudly serve/served their country. This is about your lives as well. You can scrap about any aspect of military life or the servicemen and women who we love. This includes everyone world wide, I would love to see LOs from around the world. They can be regular layouts or digital, any size. I extend this to police and fire fighters as well. This is open to everyone and anyone through out the month. No signing up needed.
Last month's winner:
Welcome Home Soldiers
By
Forevervampress
Code of Conduct:

* 1) All LOs must be new as of December 1, 2010 and are due by December 30, 2010.
* 2) Anyone can enter at any time. You will be allowed one LO per month. You can share more, please just state so in your post.
* 3)All submissions must include the challenge requirements for this month.
* 4) If you get love please be kind to return it.
This months challenge is Just to scrap a military Page, with the holidays things can get hetic so It will be great just to see the pages! If you want a challenge I have that too

1. Use ribbon or a bow (like presents)
2. Use the colors Red and Green
Lets see those pages
* Also Small RAK this month for the winner
Layouts:
the BALL
By
Anna C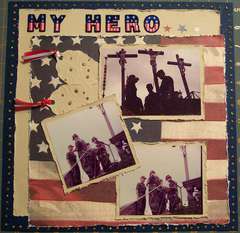 My Hero
By
Debby_westbrook
Believe
By
Forevervampress