Hey everyone!
We just wanted to let you know about another holiday project class coming up on Live with Prima tomorrow night. We broadcast our classes on our Prima channel on ustream.com. All classes are free and we broadcast the classes "live". You can ask the instructors questions during the class and we have moderators present on the chats to help too! Create a free account on ustream to log in to join the chat! We also have a huge selection of archived videos for you to enjoy whenever you like..
Here is the link to our channel:
http://www.ustream.tv/channel/primaflower
and all Prima products used in the classes can be found here at Scrapbook.com! The selection is amazing!
12 Days Of Christmas Album with Sharon Laakkonen
Thursday Night, December 9th at 6:30pm PST (7:30pm MDT/ 8:30pm CST/ 9:30pm EST)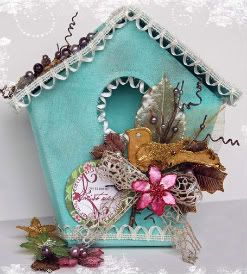 Come create a keepsake canvas birdhouse with Prima! This magical Christmas album is sparkling with glittery products and stunning artsy techniques. The classic "12 Days of Christmas" theme is perfect for this six page canvas album. Each page will have plenty of room for fun holiday photos, journaling tags, and hidden pockets to tuck secret things inside. We even have a FREE custom-made-just-for-you digital download that contains 12 Christmas tags-one for each of the twelve days, along with an amazing title circle. Sharon will show you how to have loads of scrapping fun with gorgeous Prima products while creating this complete album that is sure to be a stunning addition to your family keepsakes!