Hey Neighbors!
We have some great Prima classes this week on Live with Prima! See the details below...
Remember, the classes are free and we have a live chat during each show!
See the classes here:
http://www.ustream.tv/channel/primaflower
Travel Pocket Journal with Julie Fei-Fan Balzer
Monday, March 7th at 5:00pm PST
Instead of scrapbooking the vacation after the fact, why not scrapbook the vacation along the way? In this class Julie will show you how to create an amazing album full of pockets! Pockets that are perfect for storing all the things you collect on a vacation – ticket stubs, brochures, receipts, etc. We'll even add journaling cards for each day of your trip so that all you need to do is bring along a pen!
•Patterned Paper from the Madeline Collection
•Madeline-842376
•Parkway-842420
•Rosalee-842406
•Spring Tide-842475
•Parfait-842468
•SaintMarie-842482
•Pistachio-842451
•Parsley Place-842390
•2 feet of Lace-921385
.......................................
Spring Basket with Lolly Chessie
Thursday, March 10th at 6:30pm PST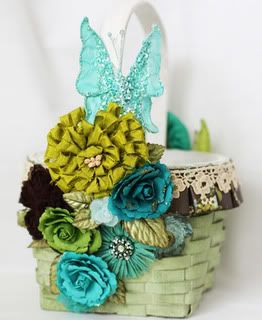 Spring is in the air and it's time to get out your favorite baskets and fill them with goodies! What better way to leave out treats than with this beautifully decorated basket! You'll supply the basket Lolly will show you how to do the rest! The basket Lolly used is started out white and is 6 x 5 (base) and 7 inches tall (with the handle).
•Madeline paper Parsley Place - 1 sheet #842390
•Madeline paper Rosalee - 1 sheet #842406
•Dechire Collection Nanette #548698
•Treasure Rae Collection - Emerald Sea #546982
•Cameo Roses-Teal-538736
•Heirloom Paper Leaves Frost #532185
•Butterfly Kiss – 549503 or 549497 or 543099 Swallow Tail Butterflies-Tiger
•Lace (1/4 yard): Alencon Collection #545512
•Lace (1 full flower cut off from the strip):Rose Trim (brown) #921095